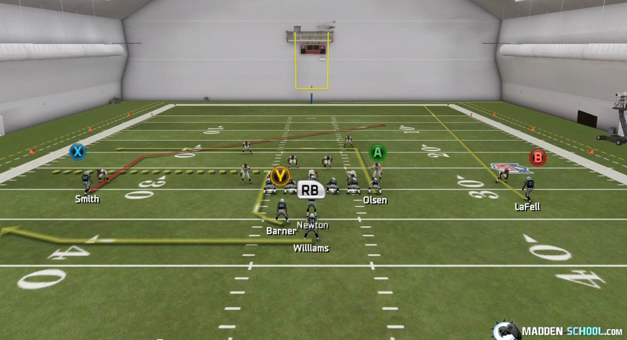 We've already went over a quick pass, a running play, and a screen pass in the Pistol Weak formation.  Today's Madden 25 tip will complete our scheme from the Pistol Weak and add one more play to the already effective formation.
You can check out the play details and video below.
Madden NFL 25: Pistol Weak - PA Option Pass
Playbook
: Carolina Panthers
Formation: Pistol Weak
Play: PA Option Pass
Setup:
Hot route your fullback to an option route
Hot route your tight end to an extended in route
Reads:
Against man to man defense, first look to your running back on the option route or your tight end on the extended in route
Against zone defense, read between the running back on the option route and the X/square receiver on the post route
Madden School Pro Tip: Use a running back with decent speed and catch ratings in the 2nd halfback spot.
If you want to take your game to the next level, check out our Madden 25 eBook below. Also, be sure to look over our Madden School 365 section.