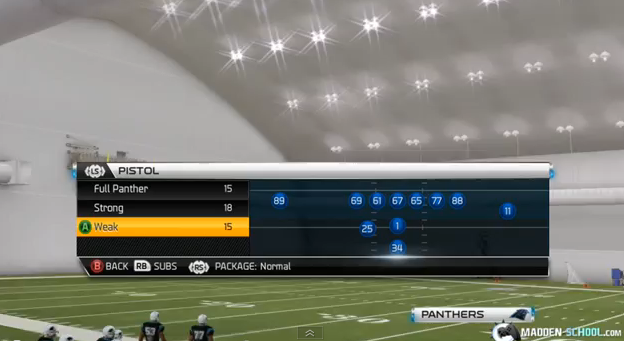 In today's free Madden 25 tip, we are continuing to break down the Pistol Weak formation.  Today's play combines a HB Slip Screen, which is very effective in Madden 25, with an unbumpable route from a wide receiver.
Check out the full breakdown below.
Madden Tips: Pistol Weak - HB Slip Screen
Playbook
: Carolina Panthers
Formation: Pistol Weak
Play: HB Slip Screen
Setup:
(Optional) Put your fullback on a swing right and your running back on an option route
Reads:
Your first read is always the screen pass.
If he is covered, look to your wide receiver on the unbumpable route
If you want to take your game to the next level, check out our Madden 25 eBook below. Also, be sure to look over our Madden School 365 section.