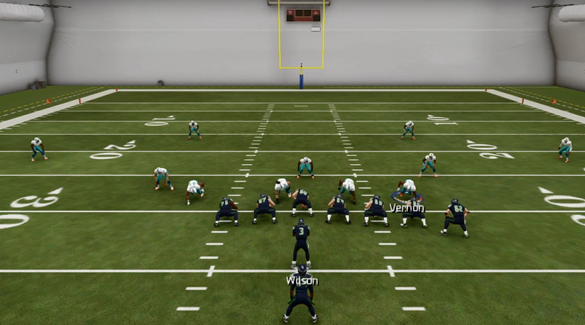 In this free Madden 25 tip, we are going over a way to stop the dreaded HB Slip Screen in Madden 25.  It really is as simple as just putting a defensive end or 2 in a contain before the offense snaps the ball.
We have the full video breakdown below.
Madden Tips: Stopping The HB Slip Screen In Madden 25
Playbook
: Any
Formation: Any
Play: Any
Setup:
Put both defensive ends in QB contains
Madden School Pro Tip: Man to man defense works better than zone defense to stop screens in general so combine the contain with man to man defense behind it for maximum effectiveness (it should still work even if you play zone though).
Make sure to leave your comments on what you'd like to see us do more Madden 25 video tips on in the comments section.
If you are enjoying our free tips, consider purchasing one of our Madden 25 eBooks. Not only are you supporting Madden School but you will also be taking your game to a whole new level. Also be sure to check out our brand new Madden School 365 area where you will receive 1 premium tip every day for 365 days.