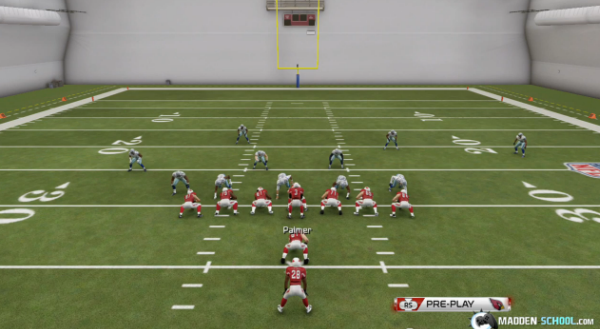 In today's free Madden 25 tip, we are going over a running play that will get you around 4 yards on a consistent basis.
Check out the full breakdown below.
Madden 25 Using Motion For Better Run Blocking - I Form Tight: HB Blast

Playbook
: Arizona Cardinals
Formation: IForm Tight
Play: HB Blast
Setup:
Motion the tight end on the right to the left
Madden School Pro Tip: When we motion the tight end, usually no defender will follow him to the other side of the field, giving us an extra blocker.
Make sure to leave your thoughts and comments on what you'd like to see in future Madden 25 tips in the comments section below.
If you are enjoying our free tips, consider purchasing one of our Madden 25 eBooks. Not only are you supporting Madden School but you will also be taking your game to a whole new level. Also be sure to check out our brand new Madden School 365 area where you will receive 1 premium tip every day for 365 days.