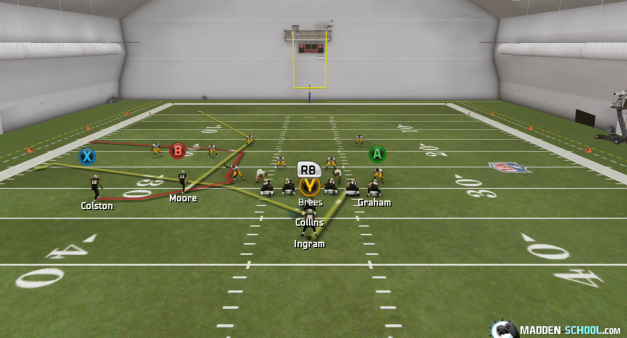 Based on the success of our recent Madden 25 Pistol Weak scheme released last weak and a comment on yesterday's video we decided to do a passing play out of the IForm Twins Flex to give us a different option to go along with the running play out of the same formation.
Check out the full breakdown below.
Madden 25 Money Play: IForm Twins Flex - PA Saints Misdirect

Playbook
: New Orleans Saints
Formation: IForm Twins Flex
Play: PA Saints Misdirect
Setup:
You have a bunch of options on the right side of the field. See video for details
Reads:
Against man to man defense, both of your outside receivers will be open
Against zone defense, you will make to see which of the 3 options are open
If you want to take your game to the next level, check out our Madden 25 eBook below. Also, be sure to look over our Madden School 365 section.