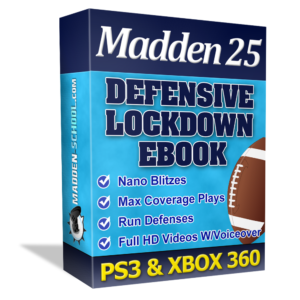 The Madden-School.com Defensive Lockdown eBook for Madden 25 is now available.  It is based out of the 3-4 defensive playbook and covers 5 formations and 30 plays.  It features pressure from both sides, a gap nanos and all sorts of coverage plays.
Here is an example play out of the 3-4 Even formation.
Formation: 3-4 Even
Play: MLB Cross Fire 3
Setup:
Shift the Dline to the left
Hot route the LE (on the right side of the screen) to a QB Spy
Adjust the zones behind it as you see fit
The Madden 25 Defensive Lockdown eBook currently features the following formations:
3-4 Over
3-4 Solid
Nickel 2-4-5
Nickel 1-5-5
Quarters 3 Deep
As with all of our ebooks we will add updates and more formations throughout the year.
Purchase the Madden 25 Defensive Lockdown eBook out of the 3-4 playbook for only $24.99 and start dominating today.

Only $24.99! Instant Access!