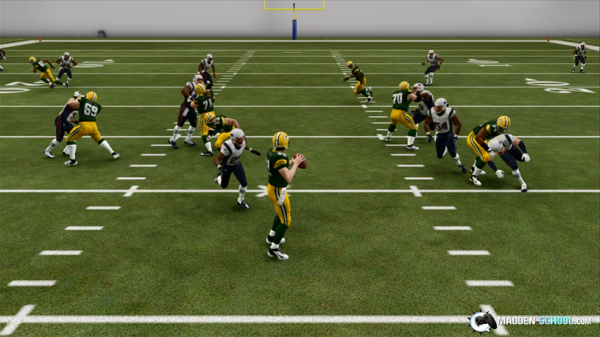 The feedback we received on yesterday's free tip was really awesome so thank you to everyone who had suggestions.  The majority of suggestions involved defense and some sort of blitz with decent coverage behind it.
So today's tip is just that.  We have the full breakdown below.
Madden 25 Nano Blitz Nickel 3-3-5 Will: Sugar 3 Overload
Playbook
: New England Patriots
Formation: Nickel 3-3-5 Will
Setup:
Shift your linebackers to the right
Reblitz your LOLB (on the right side of the screen)
Move your blitzing cornerback in a little bit (see video for positioning)
(Optional) reblitz the LE (on the right side of the screen) for a double B-gap nano
(Optional) Adjust the zone coverages behind the defense.
Madden School Pro Tip: You will sometimes want to leave the whole deep part of the field open once you are confident that your opponent won't look deep.  I know it sounds nuts, but that is exactly why it works.
Let us know what you want to see in our free Madden 25 tips.  You can leave a comment below or on our Madden 25 forum.
If you want to get the most elite tips in Madden 25, check out our Madden School 365 section.