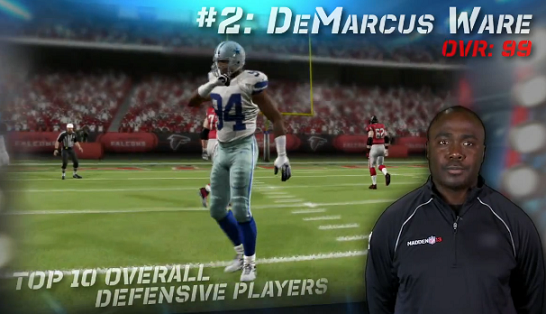 With about a week left until Madden 13 is released, EA Sports unveiled the top 10 defensive players today via their YouTube channel.  There weren't any real surprises on this list but there are plenty of other players that didn't make the list that you could easily make a case for.  Thankfully with weekly roster updates in Madden 13, players' ratings can improve and decline based on their performance on the field each week.
Darelle Revis
Demarcus Ware
Patrick Willis
Jared Allen
Justin Smith
Julius Peppers
Haloti Ngata
Troy Polamalu
Ed Reed
Mario Williams
You can watch the full video below with each players overall rating.  Who do you think doesn't belong on the list?  Who was left off the list that should be on it?  Let us know in the comments section.
The Top 10 Overall Defensive Players in Madden NFL 13 with Ratings Correspondent Marshall Faulk!