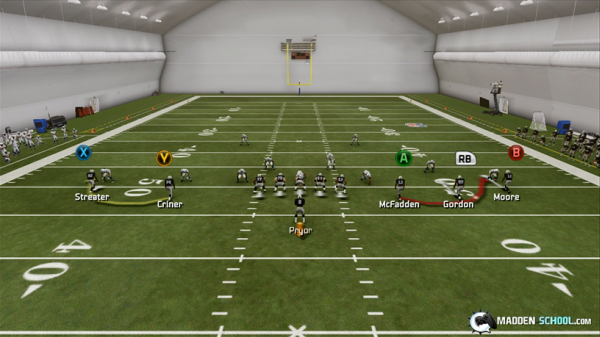 In today's Madden-School.com free Madden 25 tip, we are going to be breaking down a way for you to move the ball downfield with 3 simple plays.  This formation can be found in the Oakland Raiders Playbook.  However, if you go to create a custom playbook this formation is called Gun 5WR HB.
There are plenty of other good plays in the Gun Empty Spread formation so you can go ahead and practice those on your own but these are a few that will get you started.
Madden 25 Gun Empty Spread Mini Scheme
The plays that we went over in the video are:
Bubble Screen
QB Draw
Curls Shake
Other plays we would recommend from this formation:
PA Verticals
MTN Read Option
Vertical Looks
This is the type of scheme that when perfected you could run for an entire drive just to make your opponent angry.
If you are enjoying our free tips, please consider purchasing one of our Madden 25 eBooks.  Not only are you supporting Madden School but you will also be taking your game to a whole new level.  Also be sure to check out our brand new Madden School 365 area where you will receive 1 premium tip every day for 365 days.