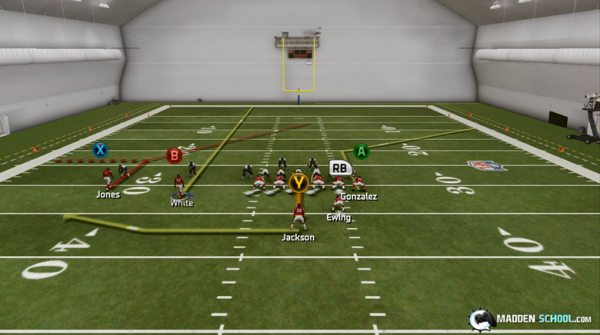 In today's Madden-School.com free Madden 25 tip, we will be breaking down a play out of the Strong Pro formation called Falcons Option.
The play possesses a very unique option route that works against all kinds of coverages.
Madden 25 Falcons Option Money Play

Playbook
: Atlanta Falcons (and many others)
Formation: Strong Pro
Play: Falcons Option
Setup:
Hot route your B/circle receiver to a streak and motion him to the left
Hot route your FB to block
Hot route your halfback to a swing left
(Optional) Slide protect left
Reads:
Your primary read is your X/square receiver on the option route.
If he is covered, your Y/triangle receiver should be open in the flat
Your tight end on the corner route on the other side of the field may also be open.
Madden School Pro Tip: Use a wide receiver with good route running and a decently high overall to run the option route.
If you are enjoying our free tips, please consider purchasing one of our Madden 25 eBooks. Not only are you supporting Madden School but you will also be taking your game to a whole new level. Also be sure to check out our brand new Madden School 365 area where you will receive 1 premium tip every day for 365 days.