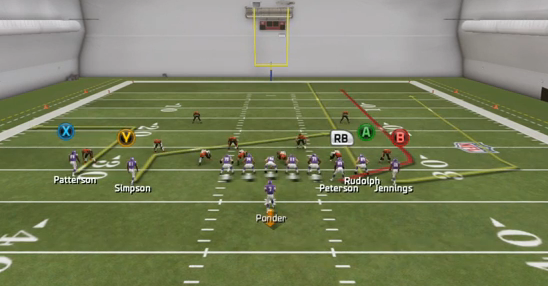 In today's free Madden-School.com video, we are going to continue breaking down the Gun Empty Bunch formation in Madden 25.
The play we are breaking down today is one of the more popular concepts in Madden NFL games but done in a very unique formation and with a few hot routes.
The full play is below.
Madden 25 PS3 and XBOX 360: Gun Empty Bunch - Verticals
Playbook
: Minnesota Vikings
Formation: Gun Empty Bunch
Play: Verticals
Setup:
Put your X/square receiver on an extended out route
Put your A/X tight end on a streak
Reads:
Your first read is always between the 2 receivers on the right side of the field running the wheel routes
If they are both covered, look to your X/square receiver on the extended out route or the Y/triangle receiver on the slant
If you want to take your game to the next level, check out our Madden 25 eBooks below. Also, be sure to look over our Madden School 365 section.