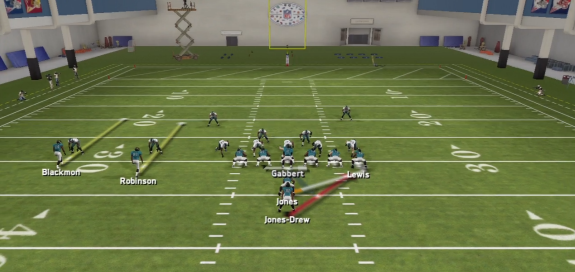 A new Madden season is upon us here at Madden-School.com and that means a plethora of new tips, strategies, ebooks, and general Madden 13 information.  To get everyone started with the game we decided to choose a very simple yet effective run play that gamers of all skill levels can use.  You should be looking at 5-10 yard gains every play until your opponent starts really committing to the run.
Playbook: Jacksonville Jaguars (And plenty of others too)
Formation: I-Form Pro Twins
Play: Power O
Madden 13 Running Tips: I-Form Pro Twins Power O
Setup:
Just change the run to the other side if your opponent overloads the side you are originally supposed to run to. (This can be done by pressing right or left on the right analog stick)
Overview: The play is really nothing special but it is nice to have a play in your arsenal that you know works.  Obviously it is best to use this play with a team that has a good running back but it isn't required.
If you are looking to take your game to the next level, check out our Madden 13 eBooks:
Madden 13 Offensive Attack eBook
Madden 13 Defensive Lockdown eBook