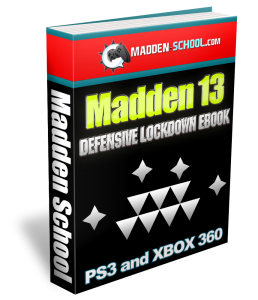 The Madden-School.com Defensive Lockdown eBook for Madden 13 has to be our best ebook of all time.  We spent hours in practice mode labbing up the best defensive plays in Madden 13.  I don't know too many people that use more than 10 plays on defense per game which makes that fact that this ebook contains 30 plays out of 9 formations even more impressive.  Each and every play can be found in the 46 defensive playbook although there are many plays that can be found in other playbooks as well.
Words really can't do this ebook justice so please watch a short 1 minute video below that shows you the type of heat you can expect when you buy it.
Madden 13 Defensive Lockdown eBook Promo Madden-School.com
Again, there are 30 plays (Most of them are heavy pressure with 4 to 6 defenders blitzing) and great coverage behind them, although there are some run stoppers and situational defenses included too.  The list of formations covered is below.
Big Nickel Bear
3-4 Solid
46 Normal
46 Bear
Nickel 3-3-5 Will
Dollar 3-2-6
Dime Flat
Quarters 3 Deep
(Bonus Content) 46 Bear Under
This year our ebooks are fully compatible with PCs, Macs, laptops, ipads, iphones, any kind of smart phone or tablet.  Pretty much if you can connect to the internet, you can view it.  Each play includes a full HD video as well as a detailed written breakdown.
It doesn't matter whether you are a seasoned Madden veteran or completely new to the game, this ebook will help take your game to the next level.  The plays are simple enough for inexperienced gamers to use while dominant enough to be ran by veterans playing money games.
Get a head start on the competition.  Get your ebook today!



Only $24.99! Instant Delivery!