EA Sports released their long anticipated franchise update this week with the big new feature being the ability to choose the Superstar and X-Factor abilities that your players get.
This is a gamechanger and allows you to equip your best players with the most dominant abilities in Madden 21.
We are going to focus on Superstar abilities since they impact games much more than X-Factor abilities (which rarely are activated).
Every non-special teams position but quarterback has 2 ability slots. For the most part, you unlock your first ability slot and 70 overall and your second slot at 85 overall. Offensive lineman unlock their 2nd ability slot at 80 overall instead of 85.
Superstar X-Factor quarterbacks get 5 ability slots unlocked at 60, 70, 80, 85, and 90 with the most game-changing abilities usually become available at higher overall ratings.
Keep in mind that these are just some of our recommendations. You may have players on your team that wont fit with these recommendations and that is fine but if you have no idea which superstar abilities to use, this is a great starting point.
Before we get started, lets briefly cover how to change your players' abilities. All you have to do is go into your franchise. Then navigate to My Team – Roster – Click on the player you want to edit – scroll over to abilities and then click on the ability you want to edit.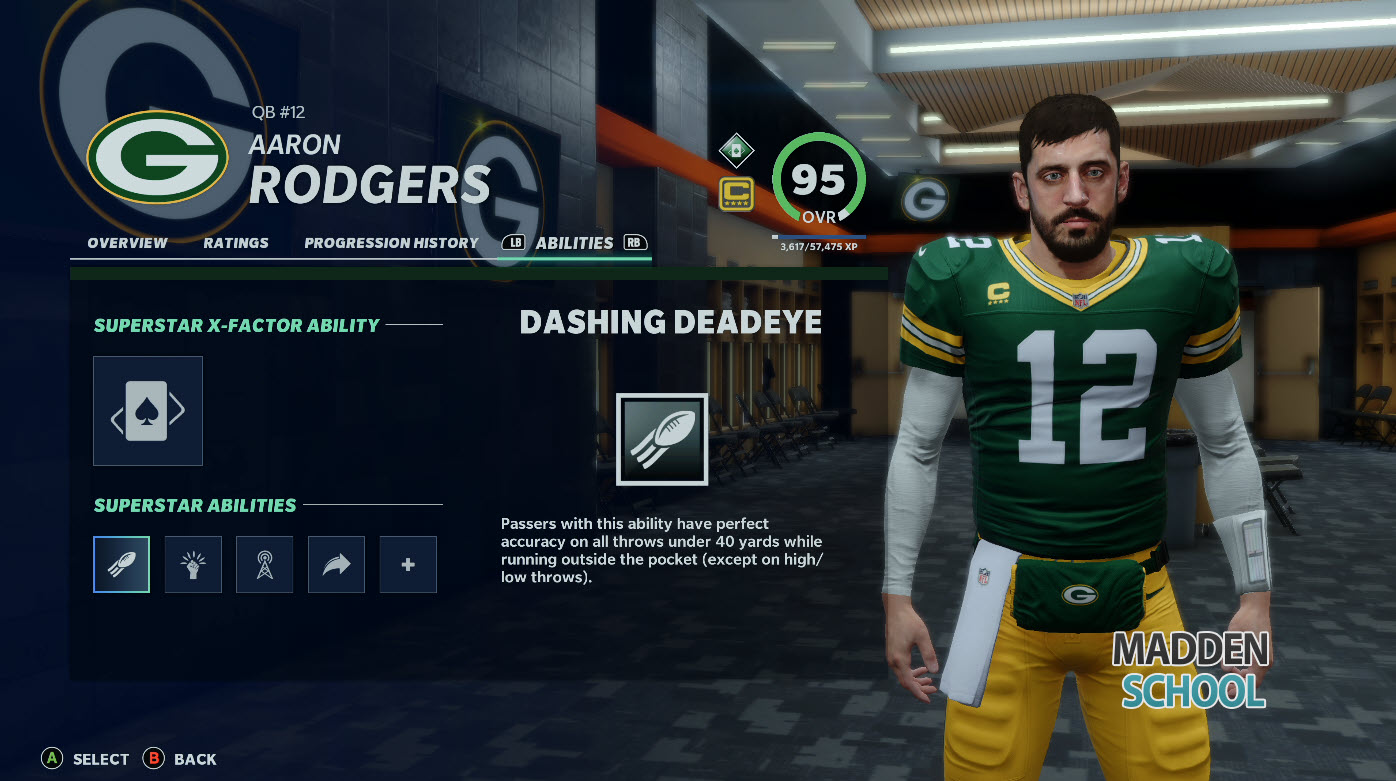 Then just select the ability you want to replace it with.
Now let's move onto our ability recommendations.
Quarterback: Escape Artist, Hot Route Master, Pass Lead Elite, Gunslinger, Fastbreak, Dashing Deadeye, Protected, Conductor, Fearless
Running Back: Evasive, Bulldozer, Reach For It, RB Apprentice, Human Joystick, Playmaker
Wide Receiver/Tight End: Route Technician, Route Apprentice, Grab-N-Go, Any Apprentice that gives you access to 4 more routes, Slot-O-Matic
Offensive Line: Edge Protector, Nasty Streak, Puller Elite, Secure Protector
Pass Rusher: Edge Threat, Under Pressure, Strip Specialist, Pass Committed
Run Stopper: Inside Stuff
Linebacker: Enforcer,  Mid Zone KO, Medium Route KO, Lurker, Outmatched
Cornerback: Acrobat, One Step Ahead, Any of the KOs
Safety: Any of the KOs, Tackle Supreme, Acrobat
Kicker: Focused Kicker
Remember that these are just recommendations. It isn't an exhaustive list and there are plenty of good abilities not covered. These should be used as a starting point. They wont be right for every team and every player but these abilities are some of the better ones in the game.
Let us know what your favorite Madden 21 superstar abilities are in the comments section below!
Now check out our page dedicated to everything you need to know to get an edge in your Madden 21 franchise!