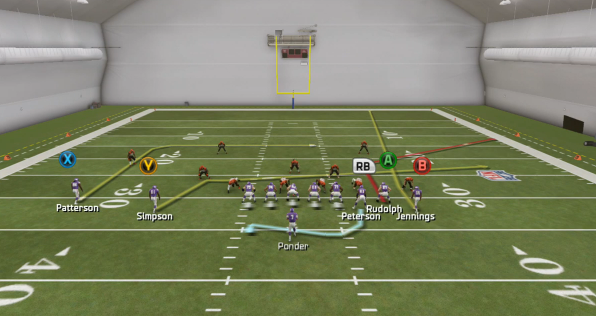 In this Madden-School.com video tip, we are breaking down the first play of our Gun Empty Bunch breakdown for Madden 25.  This formation can be found in the Minnesota Vikings playbook and can be added into any custom playbook as well.
Check out the full video breakdown below.
Madden 25 Offensive Tip: Gun Empty Bunch - PA MTN Read

Playbook
: Minnesota Vikings
Formation: Gun Empty Bunch
Play: PA MTN Read
Setup:
None required
Reads:
Your first read is the tight end on the corner route
If he is covered, look to your Y/triangle receiver underneath
If he is covered, look to your X/square receiver
Madden School Pro Tip: Mix this play in with the other plays we go over from this formation in the next couple of days for maximum effectiveness.
If you want to take your game to the next level, check out our Madden 25 eBooks below. Also, be sure to look over our Madden School 365 section.