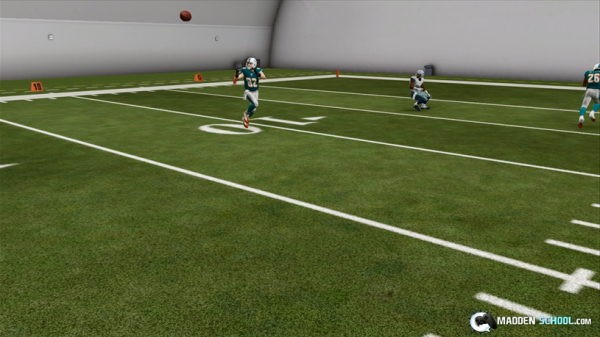 In today's free Madden 25 tips from Madden-School.com, we are going over a play that contains a 20 yard deep in route.  That route is extremely uncommon in Madden 25 but very effective.
We have the full breakdown below.
Madden 25 Tips: Gun Doubles Wing TE - PA DBL Ins

Playbook
: Miami Dolphins
Formation: Gun Doubles Wing TE
Play: PA DBL Ins
Setup:
Hot route your A/X tight end to block
Hot route your RB/R1 running back to a streak and motion him out to the left
(Optional) Hot route your B/circle receiver to a streak.
Reads:
Our primary read on this play is the X/square receiver on the 20 yard in route.
Madden School Pro Tip: This isn't the kind of play that you can run a bunch of times.  But if you have a key 3rd and long situation, it is an awesome play which should allow you to convert when you really need it most.
If you are enjoying our free tips, please consider purchasing one of our Madden 25 eBooks. Not only are you supporting Madden School but you will also be taking your game to a whole new level. Be sure to check out our brand new Madden School 365 area as well where you will receive 1 premium tip every day for 365 days.