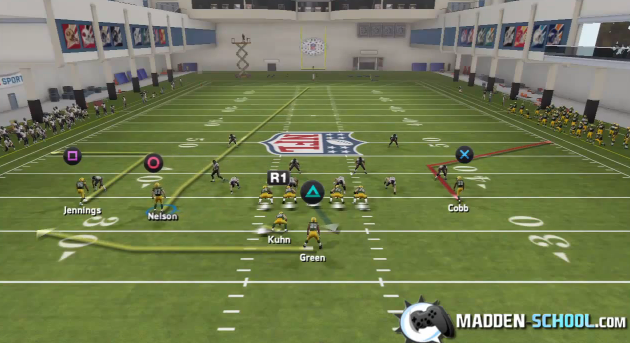 The one defense you are guaranteed to encounter when playing in any online Madden 13 game is 2 man under.  Novice players call it because it is extremely simple and veterans call it because it is very effective.  In today's Free Tips Tuesday episode, we will show you a basic way of beating 2 man under defense.
Formation: Weak Slot
Play: PA Power O
Madden-School.com Free Tips Tuesday Episode #4
Setup:
Block the fullback
Motion the receiver on the far right to the left
Hot route your square/X receiver to an extended out route
Hot route your halfback to a flat route to the left
Reads:
Your first read is your X/A receiver on the corner route
If he is covered, look to your square/X receiver on the extended out route
Madden-School.com Pro Tip: Block your fullback to the left and slide protect your offensive line to the right for better protection.
Make sure to check out the Madden-School.com Twitter, Facebook, and YouTube pages for more free Madden 13 tips, cheats, and news.