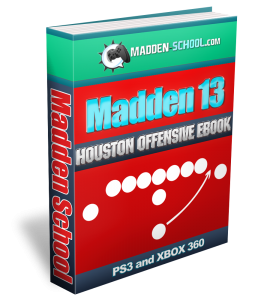 We have had a few months now to work on our 3rd ebook of the year, the Madden-School.com Houston Offensive eBook. It has 42 plays out of 10 formations all found in the Houston Texans offensive playbook.
The Houston Offensive ebook is unique because it is balanced with both run plays and pass plays. Most ebooks focus on great passing plays with just filler run plays. In this ebook, we have both great pass plays as well as very effective run plays.
Click Here To Buy Your Madden 13 Houston Offensive eBook
The formations covered in the Houston Offensive ebook are:
Chapter 1: Singleback Jumbo Z
Chapter 2: Singleback Ace Close
Chapter 3: Singleback Ace Twins
Chapter 4: I-Form Pro
Chapter 5: Gun Split Close
Chapter 6: Gun Split Texan
Chapter 7: Gun Doubles
Chapter 8: Gun Tight Doubles On
Chapter 9: Gun Bunch
Chapter 10: Gun Empty Y-Flex
As you can probably tell there is a good mix of compression sets and balanced formations. We stayed away from the wildly overused strong close and shotgun snugs flip formations. Since so many people are using those formations these days, they are no longer as effective.
Start dominating your opponents right away with our Houston Offensive eBook.
Get your ebook today! Only $24.99! Instant Delivery