EA Sports is teaming up with Disney and ESPN to air Madden 18 eSports tournaments now and in the future. The growth of eSports has been exponential over these last few years, and the trend is certainly expected to continue.
With the successful airing of the EA Sports Madden Challenge on the CW, the teams over at EA and Disney decided to team up to broadcast Madden tournaments. It makes business sense to partner up.

According to the number one eSports research site, newzoo, the eSports industry is expected to generate more than 1.5 billion dollars this year. With Madden's popularity soaring, it was only a matter of time before the game's tournaments landed a spot on cable television. What better channel than ESPN?
Perhaps social media and digital streaming of the tournament's games themselves. GM of the EA Competitive Gaming Division, Todd Sitrin, is incredibly excited about the opportunity to reach more Madden fans.
"Through this collaboration with ESPN and Disney XD, we'll provide ongoing coverage for fans worldwide across a variety of ESPN and Disney platforms, but also digitally through our own Madden streaming and social channels," Sitrin said of the new eSports deal.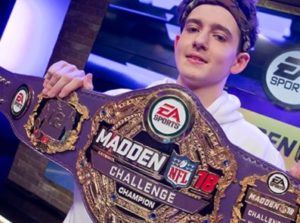 You can already tune into Madden 18 broadcasts on Twitch and YouTube Live, but there is a real audience interested in watching the absolute best of the best Madden players square off against one another.
The broadcasts are geared towards a younger generation, undoubtedly. The eSports audience ranges in age from teens to adults in their 30's and 40's, making channels such as Disney and ESPN ideal for reaching viewers. Of the eight competitors we watched vie for the Madden Challenge tournament belt on the CW last month, seven of them were under the age of 21. That's a youth movement if there ever was one.
Still though, we'll have to wait and see if Madden 18 eSports is ready for regular coverage across some of the most popular cable networks such as Disney and ESPN.
What are your thoughts on the partnership to air Madden 18 eSports on Disney and ESPN? Are you looking forward to watching the Madden Challenge and Championship Series tournaments on television? As always, share your thoughts in the comments section below.