The pros at Madden School want to see you dominate your competition, and an in-depth knowledge of talented players is vital to doing just that. To help with that, we've put together our list of the 10 wide receivers rated 80 overall or less to use in Madden 18.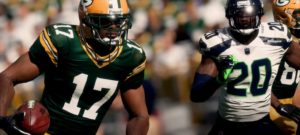 When playing against an opponent who is good on defense, a solid Madden 18 strategy is to distribute the ball to several different wide receivers. This will keep your opponent off guard and guessing as to which wide receiver you're targeting in the passing game.
There are plenty of playmakers at the WR position other than just the top rated receivers such as Julio Jones, Antonio Brown, and Odell Beckham Jr.
Here are 10 wide receivers rated 80 overall or less to use in Madden 18.
Corey Coleman 79 overall, Cleveland Browns
Coleman has the ability to run away from defenders with his 93 SPD. Factor in Coleman's 83 CTH and 93 JMP and he gives you a deadly weapon in the deep passing game plus a great compliment to the recently reinstated WR Josh Gordon.
Taylor Gabriel 80 overall, Atlanta Falcons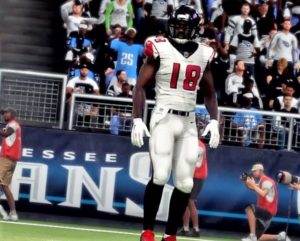 Gabriel is a great option on quick routes where you can get him the ball and utilize his 95 SPD and ACC ratings. Gabriel, in combination with Julio Jones and Mohamed Sanu, makes up one of the best WR corps in Madden 18. Gabriel is definitely one of the top wide receivers to use rated 80 or less.
Corey Davis 79 overall, Tennessee Titans
Davis is still a rookie WR, but he can really hurt an opposing defense. His CTH and CIT ratings are both at an 83, and he can make some big plays with an 87 SPC rating. Davis can bring in deep throws same as well as run with the ball after getting it out into space.
Dede Westbrook 79 overall, Jacksonville Jaguars
Another rookie WR, Westbrook is definitely one of the top wide receivers rated 80 or less to use in Madden 18. Westbrook has an amazing 88 CTH rating for a rookie, but he also has an 83 in JMP, SPC, and RTE ratings. All very solid for a rookie, and a player rated 80 or less. Try to hit Westbrook with passes where he can use his SPD after the catch.
Josh Doctson 80 overall, Washington Redskins
Doctson is a former first round pick, and is just now starting to reflect that in his Madden rating. Doctson has a positive RAC, Possession, and Aggressive trait to go with his 86 CTH and whopping 96 JMP ratings. Doctson is a great option for a wide receiver rated 80 or less in Madden 18.
Brandon Coleman 77 overall, New Orleans Saints
Coleman is the lowest rated WR on our list, but that doesn't mean he isn't a great option in the Saints passing game. You can use Coleman in many different ways, but he's a great possession receiver. In fact he has positive RAC and Possession traits and his 84 CTH rating is solid.
Will Fuller V 80 overall, Houston Texans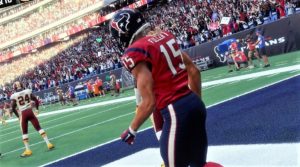 Fuller can do everything in the passing game, and he can be forgotten about with Deandre Hopkins on the other side. Fuller has Possession and RAC traits to go with his 95 SPD, 83 CTH, 83 AWR, 84 SPC, and 82 CIT ratings. All are very good ratings for a player with an overall rating of an 80. These factors combined puts Fuller one of the top wide receivers rated 80 or less to use in Madden 18.
Adam Humphries 79 overall, Tampa Bay Buccaneers
Humphries has both Possession and RAC traits to go with his 89 CTH and 85 RTE ratings. These factors alone make Humphries a great option out of the slot in the Bucs offense. Using Humphries is a luxury for a passing attack that features WR Mike Evans and a slew of talent at the TE spot.
JuJu Smith-Schuster 80 overall, Pittsburgh Steelers
Smith-Schuster is just another one of the reasons why the Pittsburgh offense is so deadly in Madden 18. Smith-Schuster is still a rookie, but his ratings wouldn't suggest it. He has Aggressive and RAC traits to go with his 81 AWR and whopping 88 CTH, which make Smith-Schuster a great receiver to use regardless of rating.
Tyler Lockett 80 overall, Seattle Seahawks
Lockett is a force in the return game plus as a slot receiver in the Seattle offense. As is the case with a few of the players on our list, try to get Lockett the ball in space where you can utilize his blazing 93 SPD and 92 ACC. Lockett's 87 CTH, 80 RTE, and 96 AGI ratings are also reasons for involving him in the passing attack.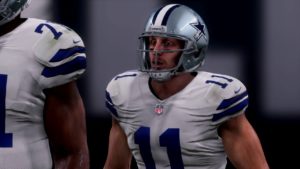 There are our 10 wide receivers rated 80 or less to use in Madden 18. Which wide outs would you add to our list? There are plenty of worthy names that were left off. Chiefs Albert Wilson and Chargers rookie Mike Williams are just a couple of receivers who come to mind. Share your thoughts with the Madden School community in the comments section below.
Stay connected with Madden School everywhere you go with the Madden School App for Apple and Android. Access Madden School's latest tips and news from anywhere using your mobile device. Download the app now and stay ahead of the competition.