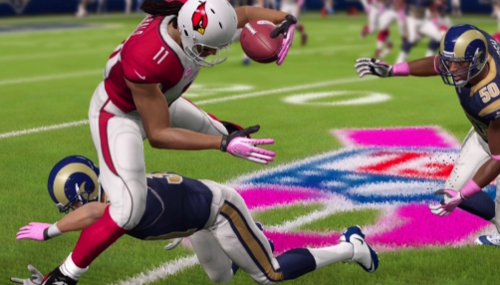 The week 5 roster update for Madden 13 is now available via download on PlayStation 3 and XBOX 360.  So far, EA Sports has impressed by maintaining their weekly roster update schedule.  Hopefully they don't fall into the all to familiar trap of starting the season off strong and slowly fading away as the NFL season progresses.  If last year is any indication, we should continue to see roster updates every week for the rest of the year.
The biggest individual player movement was Rams kicker Greg Zuerlien, or as we like to call him LEGatron, moving up 9 points to a 77 overall rating.  New England Patriot Brandon Bolen went up 6 points to a 71 overall.
We have the full roster update with increases, decreases, signs, and releases included below.  Who do you think deserves a ratings upgrade?  Let us know in the comments section or on our forum.
| | | | |
| --- | --- | --- | --- |
| Bobby Massie | OL | ARZ | Decrease, from 73 to 71OVR |
| Dan Williams | DL | ARZ | Decrease, from 78 to 77OVR |
| William Gay | CB | ARZ | Decrease, from 78 to 77OVR |
| Lyle Sendlein | OL | ARZ | Decrease, from 79 to 78OVR |
| David Carter | DL | ARZ | Increase, from 71 to 73OVR |
| Sam Acho | LB | ARZ | Increase, from 75 to 76OVR |
| O'Brien Schofield | LB | ARZ | Increase, from 75 to 77OVR |
| Andre Roberts | WR | ARZ | Increase, from 75 to 78OVR |
| Kevin Kolb | QB | ARZ | Increase, from 77 to 78OVR |
| Patrick Peterson | CB | ARZ | Increase, from 86 to 87OVR |
| Calais Campbell | DL | ARZ | Increase, from 92 to 93OVR |
| Adrian Wilson | S | ARZ | Increase, from 95 to 96OVR |
| Beanie Wells | HB | ARZ | IR |
| Alfonso Smith | HB | ARZ | Jersey change to #29 |
| Ryan Williams | HB | ARZ | Moved to HB #1 on depth chart |
| Ray Edwards | DL | ATL | Decrease, from 83 to 81OVR |
| Jonathan Babineaux | DL | ATL | Decrease, from 87 to 86OVR |
| Julio Jones | WR | ATL | Decrease, from 89 to 88OVR |
| Tyson Clabo | OL | ATL | Decrease, from 92 to 91OVR |
| Vance Walker | DL | ATL | Increase, from 70 to 71OVR |
| Garrett Reynolds | OL | ATL | Increase, from 72 to 73OVR |
| Matt Bosher | P | ATL | Increase, from 73 to 75OVR |
| Justin Blalock | OL | ATL | Increase, from 84 to 85OVR |
| Michael Turner | HB | ATL | Increase, from 88 to 90OVR |
| Matt Ryan | QB | ATL | Increase, from 91 to 92OVR |
| Roddy White | WR | ATL | Increase, from 94 to 95OVR |
| Lousaka Polite | FB | ATL | Jersey change to #45 |
| Robert James | LB | ATL | Jersey change to #51 |
| Kelechi Osemele | OL | BAL | Decrease, from 74 to 73OVR |
| Ma'ake Kemoeatu | DL | BAL | Decrease, from 74 to 73OVR |
| Terrence Cody | DL | BAL | Decrease, from 76 to 75OVR |
| Ed Dickson | TE | BAL | Decrease, from 77 to 75OVR |
| Dennis Pitta | TE | BAL | Decrease, from 78 to 77OVR |
| Jimmy Smith | CB | BAL | Decrease, from 81 to 80OVR |
| Bernard Pollard | S | BAL | Decrease, from 85 to 84OVR |
| Albert McClellan | LB | BAL | Increase, from 73 to 74OVR |
| Cary Williams | CB | BAL | Increase, from 77 to 79OVR |
| Anquan Boldin | WR | BAL | Increase, from 87 to 88OVR |
| Marshal Yanda | OL | BAL | Increase, from 96 to 97OVR |
| Haloti Ngata | DL | BAL | Increase, from 97 to 98OVR |
| Erik Pears | OL | BUF | Decrease, from 80 to 78OVR |
| Mark Anderson | DL | BUF | Decrease, from 81 to 80OVR |
| Nick Barnett | LB | BUF | Decrease, from 89 to 88OVR |
| Stevie Johnson | WR | BUF | Decrease, from 89 to 88OVR |
| Mario Williams | DL | BUF | Decrease, from 96 to 95OVR |
| Donald Jones | WR | BUF | Increase, from 73 to 75OVR |
| Stephon Gilmore | CB | BUF | Increase, from 76 to 78OVR |
| Scott Chandler | TE | BUF | Increase, from 80 to 83OVR |
| Jairus Byrd | S | BUF | Increase, from 88 to 89OVR |
| Andy Levitre | OL | BUF | Increase, from 91 to 92OVR |
| Cordy Glenn | OL | BUF | Lowered on depth chart (injury) |
| Chris Hairston | OL | BUF | Moved to LT #1 on depth chart |
| Steve Smith | WR | CAR | Decrease, from 65 to 63CARRY |
| Brandon LaFell | WR | CAR | Decrease, from 77 to 76OVR |
| James Anderson | LB | CAR | Decrease, from 86 to 85OVR |
| Mike Tolbert | FB | CAR | Decrease, from 89 to 88OVR |
| Steve Smith | WR | CAR | Decrease, from 95 to 94OVR |
| Justin Medlock | K | CAR | Increase, from 57 to 59OVR |
| Frank Alexander | DL | CAR | Increase, from 66 to 68OVR |
| Kealoha Pilares | WR | CAR | Increase, from 66 to 68OVR |
| Amini Silatolu | OL | CAR | Increase, from 73 to 75OVR |
| Luke Kuechly | LB | CAR | Increase, from 80 to 81OVR |
| Greg Olsen | TE | CAR | Increase, from 84 to 85OVR |
| Charles Johnson | DL | CAR | Increase, from 91 to 93OVR |
| Chris Conte | S | CHI | Decrease, from 73 to 72OVR |
| Geno Hayes | LB | CHI | Decrease, from 74 to 73OVR |
| Shea McClellin | DL | CHI | Decrease, from 76 to 75OVR |
| Brian Urlacher | LB | CHI | Decrease, from 95 to 94OVR |
| Kellen Davis | TE | CHI | Increase, from 78 to 79OVR |
| Gabe Carimi | OL | CHI | Increase, from 79 to 81OVR |
| Major Wright | S | CHI | Increase, from 79 to 81OVR |
| Israel Idonije | DL | CHI | Increase, from 82 to 83OVR |
| Henry Melton | DL | CHI | Increase, from 83 to 84OVR |
| Jay Cutler | QB | CHI | Increase, from 86 to 87OVR |
| Brandon Marshall | WR | CHI | Increase, from 92 to 93OVR |
| Lance Briggs | LB | CHI | Increase, from 92 to 93OVR |
| Rey Maualuga | LB | CIN | Decrease, from 82 to 81OVR |
| BenJarvus Green-Ellis | HB | CIN | Decrease, from 83 to 82OVR |
| BenJarvus Green-Ellis | HB | CIN | Decrease, from 98 to 96CARRY |
| Vontaze Burfict | LB | CIN | Increase, from 63 to 66OVR |
| Kevin Zeitler | OL | CIN | Increase, from 77 to 78OVR |
| Reggie Nelson | S | CIN | Increase, from 79 to 80OVR |
| Terence Newman | CB | CIN | Increase, from 81 to 83OVR |
| A.J. Green | WR | CIN | Increase, from 91 to 92OVR |
| Geno Atkins | DL | CIN | Increase, from 95 to 96OVR |
| Orson Charles | TE | CIN | Moved to TE #2 on depth chart |
| Donald Lee | TE | CIN | Released |
| Chris Crocker | S | CIN | Signs |
| Richard Quinn | TE | CIN | Signs |
| Josh Cribbs | WR | CLE | Decrease, from 72 to 68CARRY |
| Eric Hagg | S | CLE | Decrease, from 77 to 76OVR |
| Sheldon Brown | CB | CLE | Decrease, from 82 to 81OVR |
| Craig Robertson | LB | CLE | Increase, from 67 to 69OVR |
| Mitchell Schwartz | OL | CLE | Increase, from 74 to 76OVR |
| Jabaal Sheard | DL | CLE | Increase, from 84 to 85OVR |
| Trent Richardson | HB | CLE | Increase, from 84 to 85OVR |
| Phil Dawson | K | CLE | Increase, from 88 to 89OVR |
| Usama Young | S | CLE | Moved to FS #1 on depth chart |
| Eric Hagg | S | CLE | Moved to FS #2 on depth chart |
| Kevin Ogletree | WR | DAL | Decrease, from 74 to 73OVR |
| Mackenzy Bernadeau | OL | DAL | Decrease, from 76 to 75OVR |
| Dan Connor | LB | DAL | Decrease, from 76 to 75OVR |
| Gerald Sensabaugh | S | DAl | Decrease, from 77 to 76OVR |
| Doug Free | OL | DAL | Decrease, from 82 to 81OVR |
| Brandon Carr | CB | DAL | Decrease, from 90 to 89OVR |
| Tony Romo | QB | DAL | Decrease, from 91 to 89OVR |
| Nate Livings | OL | DAL | Increase, from 75 to 76OVR |
| Tyron Smith | OL | DAL | Increase, from 86 to 87OVR |
| Jason Witten | TE | DAL | Increase, from 92 to 93OVR |
| Mana Silva | S | DAL | Released |
| LeQuan Lewis | CB | DAL | Released |
| Brian Moorman | P | DAL | Signs |
| Aaron Brewer | LS | DEN | Added to the game |
| Demaryius Thomas | WR | DEN | Decrease, from 63 to 61CARRY |
| Legedu Naanee | WR | DEN | Decrease, from 75 to 72CARRY |
| Robert Ayers | DL | DEN | Decrease, from 77 to 75OVR |
| Manny Rameriz | OL | DEN | Increase, from 69 to 70OVR |
| Zane Beadles | OL | DEN | Increase, from 76 to 78OVR |
| Eric Decker | WR | DEN | Increase, from 81 to 82OVR |
| Demaryius Thomas | WR | DEN | Increase, from 82 to 83OVR |
| Willis McGahee | HB | DEN | Increase, from 84 to 86OVR |
| Matt Prater | K | DEN | Increase, from 85 to 86OVR |
| Elvis Dumervil | DL | DEN | Increase, from 87 to 88OVR |
| Von Miller | LB | DEN | Increase, from 91 to 92OVR |
| Peyton Manning | QB | DEN | Increase, from 93 to 94OVR |
| J.D. Walton | OL | DEN | IR – ankle |
| Dan Koppen | OL | DEN | Moved to C #1 on depth chart |
| Aaron Brewer | LS | DEN | Moved to LS #1 on depth chart |
| Lonie Paxton | LS | DEN | Released |
| Titus Young Sr. | WR | DET | Decrease, from 76 to 75OVR |
| Nick Fairley | DL | DET | Decrease, from 79 to 78OVR |
| Kevin Smith | HB | DET | Decrease, from 80 to 79OVR |
| Jeff Backus | OL | DET | Decrease, from 83 to 82OVR |
| Brandon Pettigrew | TE | DET | Decrease, from 84 to 83OVR |
| Stephen Peterman | OL | DET | Decrease, from 86 to 85OVR |
| Stephen Tulloch | LB | DET | Decrease, from 90 to 89OVR |
| Joique Bell | HB | DET | Increase, from 58 to 62OVR |
| Gosder Cherilus | OL | DET | Increase, from 80 to 82OVR |
| Nick Harris | P | DET | Jersey change to #5 |
| Ben Graham | P | DET | Released |
| Graham Harrell | QB | GB | Decrease, from 65 to 63CARRY |
| Erik Walden | LB | GB | Decrease, from 71 to 70OVR |
| Charles Woodson | S | GB | Decrease, from 96 to 95OVR |
| D.J. Smith | LB | GB | Increase, from 72 to 74OVR |
| Marshall Newhouse | OL | GB | Increase, from 74 to 75OVR |
| Randall Cobb | WR | GB | Increase, from 77 to 78OVR |
| James Jones | WR | GB | Increase, from 79 to 81OVR |
| T.J. Lang | OL | GB | Increase, from 86 to 87OVR |
| Bryan Bulaga | OL | GB | Increase, from 86 to 87OVR |
| Ben Jones | OL | HOU | Decrease, from 71 to 70OVR |
| Connor Barwin | LB | HOU | Decrease, from 84 to 83OVR |
| Kareem Jackson | CB | HOU | Increase, from 77 to 78OVR |
| James Casey | FB | HOU | Increase, from 77 to 79OVR |
| Danieal Manning | S | HOU | Increase, from 80 to 81OVR |
| Wade Smith | OL | HOU | Increase, from 80 to 81OVR |
| Owen Daniels | TE | HOU | Increase, from 85 to 86OVR |
| J.J. Watt | DL | HOU | Increase, from 92 to 93OVR |
| Duane Brown | OL | HOU | Increase, from 94 to 95OVR |
| Quintin Demps | S | HOU | Lowered on depth chart (injury) |
| John Beck | QB | HOU | Released |
| Troy Nolan | S | HOU | Signs |
| A.Q. Shipley | OL | IND | Moved to C #2 on depth chart |
| Justin Hickman | LB | IND | Moved to ROLB #2 on depth chart |
| Mario Addison | LB | IND | Released |
| D.J. Johnson | CB | IND | Released |
| A.Q. Shipley | OL | IND | Signs |
| Marshay Green | CB | IND | Signs |
| Eben Britton | OL | JAX | Decrease, from 81 to 78OVR |
| Laurent Robinson | WR | JAX | Decrease, from 83 to 82OVR |
| Brad Meester | OL | JAX | Decrease, from 87 to 86OVR |
| Maurice Jones-Drew | HB | JAX | Decrease, from 98 to 97OVR |
| Kyle Bosworth | LB | JAX | Increase, from 57 to 62OVR |
| Jeremy Mincey | DL | JAX | Increase, from 80 to 81OVR |
| Marcedes Lewis | TE | JAX | Increase, from 84 to 85OVR |
| Derek Cox | CB | JAX | Increase, from 85 to 86OVR |
| Mike Harris | CB | JAX | Jersey change to #20 |
| Tyson Jackson | DL | KC | Decrease, from 76 to 75OVR |
| Tony Moeaki | TE | KC | Decrease, from 76 to 75OVR |
| Steve Breaston | WR | KC | Decrease, from 78 to 76OVR |
| Matt Cassel | QB | KC | Decrease, from 79 to 78OVR |
| Jamaal Charles | HB | KC | Decrease, from 88 to 85CARRY |
| Eric Berry | S | KC | Decrease, from 88 to 87OVR |
| Derrick Johnson | LB | KC | Decrease, from 92 to 91OVR |
| Ropati Pitoitua | DL | KC | Increase, from 71 to 73OVR |
| Jovan Belcher | LB | KC | Increase, from 77 to 78OVR |
| Brendan Albert | OL | KC | Increase, from 89 to 91OVR |
| Kevin Boss | TE | KC | IR |
| Tony Moeaki | TE | KC | Moved to TE #1 on depth chart |
| Bryan Kehl | LB | KC | Signs |
| Jonathan Martin | OL | MIA | Decrease, from 72 to 71OVR |
| Daniel Thomas | HB | MIA | Decrease, from 74 to 73OVR |
| Richard Marshall | CB | MIA | Decrease, from 80 to 79OVR |
| Ryan Tannehill | QB | MIA | Increase, from 74 to 76OVR |
| Koa Misi | LB | MIA | Increase, from 76 to 77OVR |
| Davone Bess | WR | MIA | Increase, from 77 to 78OVR |
| Brian Hartline | WR | MIA | Increase, from 78 to 82OVR |
| Kevin Burnett | LB | MIA | Increase, from 81 to 82OVR |
| Sean Smith | CB | MIA | Increase, from 82 to 84OVR |
| Mike Pouncey | OL | MIA | Increase, from 83 to 84OVR |
| Cameron Wake | DL | MIA | Increase, from 94 to 96OVR |
| Marcus Thigpen | PR | MIA | Moved to PR #1 on depth chart |
| Legedu Naanee | WR | MIA | Released |
| Andre Fluellen | DL | MIA | Released |
| Mike Rivera | LB | MIA | Released |
| Jabar Gaffney | WR | MIA | Signs |
| Chas Alecxih | DL | MIA | Signs |
| Brian Robison | DL | MIN | Decrease, from 87 to 86OVR |
| Marcus Sherels | PR | MIN | Increase, from 65 to 66OVR |
| Rhett Ellison | TE | MIN | Increase, from 69 to 71OVR |
| Everson Griffen | DL | MIN | Increase, from 72 to 75OVR |
| Letroy Guion | DL | MIN | Increase, from 73 to 76OVR |
| Harrison Smith | S | MIN | Increase, from 75 to 76OVR |
| Matt Kalil | OL | MIN | Increase, from 81 to 82OVR |
| Antoine Winfield | CB | MIN | Increase, from 90 to 91OVR |
| Mistral Raymond | S | MIN | Lowered on depth chart (injury) |
| Jamarca Sanford | S | MIN | Moved to SS #1 on depth chart |
| Allen Reisner | TE | MIN | Released |
| Rob Gronkowski | TE | NE | Decrease, from 69 to 67CARRY |
| Wes Welker | WR | NE | Decrease, from 75 to 73CARRY |
| Shane Vereen | HB | NE | Decrease, from 76 to 75OVR |
| Deion Branch | WR | NE | Decrease, from 79 to 78OVR |
| Stephen Gostowski | K | NE | Decrease, from 87 to 86OVR |
| Brandon Bolden | HB | NE | Increase, from 65 to 71OVR |
| Daniel Fells | TE | NE | Increase, from 67 to 70OVR |
| Tavon Wilson | S | NE | Increase, from 72 to 73OVR |
| Stevan Ridley | HB | NE | Increase, from 79 to 81OVR |
| Brandon Spikes | LB | NE | Increase, from 82 to 83OVR |
| Devin McCourty | CB | NE | Increase, from 84 to 85OVR |
| Sebastian Vollmer | OL | NE | Increase, from 84 to 85OVR |
| Kellen Winslow | TE | NE | Released |
| Terrell McClain | DL | NE | Released |
| Bobby Carpenter | LB | NE | Signs |
| Scott Shanle | LB | NO | Decrease, from 76 to 75OVR |
| Devery Henderson | WR | NO | Decrease, from 77 to 76OVR |
| Cameron Jordan | DL | NO | Decrease, from 79 to 78OVR |
| Junior Galette | DL | NO | Decrease, from 80 to 77OVR |
| Pierre Thomas | HB | NO | Decrease, from 83 to 82OVR |
| Sedrick Ellis | DL | NO | Decrease, from 83 to 82OVR |
| Will Smith | DL | NO | Decrease, from 86 to 85OVR |
| Darren Sproles | HB | NO | Decrease, from 89 to 88OVR |
| Curtis Lofton | LB | NO | Decrease, from 89 to 88OVR |
| Jabari Greer | CB | NO | Decrease, from 89 to 88OVR |
| Joseph Morgan | WR | NO | Increase, from 61 to 64OVR |
| Patrick Robinson | CB | NO | Increase, from 76 to 77OVR |
| Zach Strief | OL | NO | Increase, from 81 to 82OVR |
| Marques Colston | WR | NO | Increase, from 90 to 91OVR |
| Elbert Mack | CB | NO | Released |
| Greg Camarillo | WR | NO | Signs |
| David Wilson | HB | NYG | Decrease, from 74 to 72OVR |
| Kevin Boothe | OL | NYG | Decrease, from 78 to 76OVR |
| Corey Webster | CB | NYG | Decrease, from 87 to 86OVR |
| Ahmad Bradshaw | HB | NYG | Decrease, from 88 to 87OVR |
| Stevie Brown | S | NYG | Increase, from 66 to 69OVR |
| Domenik Hixon | WR | NYG | Increase, from 74 to 75OVR |
| Chase Blackburn | LB | NYG | Increase, from 74 to 76OVR |
| Rocky Bernard | DL | NYG | Increase, from 74 to 76OVR |
| Will Beatty | OL | NYG | Increase, from 80 to 81OVR |
| Linval Joseph | DL | NYG | Increase, from 81 to 82OVR |
| Kenrick Ellis | DL | NYJ | Decrease, from 67 to 66OVR |
| Matt Slauson | OL | NYJ | Decrease, from 75 to 74OVR |
| Kyle Wilson | CB | NYJ | Decrease, from 77 to 76OVR |
| Mike Devito | DL | NYJ | Decrease, from 79 to 78OVR |
| Shonn Greene | HB | NYJ | Decrease, from 80 to 77OVR |
| Mark Sanchez | QB | NYJ | Decrease, from 80 to 78OVR |
| Muhammad Wilkerson | DL | NYJ | Decrease, from 84 to 83OVR |
| Bart Scott | LB | NYJ | Decrease, from 88 to 87OVR |
| David Harris | LB | NYJ | Decrease, from 89 to 87OVR |
| Brandon Moore | OL | NYJ | Decrease, from 89 to 88OVR |
| D'Brickashaw Ferguson | OL | NYJ | Decrease, from 90 to 88OVR |
| Nick Mangold | OL | NYJ | Decrease, from 97 to 95OVR |
| Antonio Cromartie | CB | NYJ | Increase, from 86 to 87OVR |
| Santonio Holmes | WR | NYJ | IR – foot |
| Stephen Hill | WR | NYJ | Moved to WR #1 on depth chart |
| Chaz Schilens | WR | NYJ | Moved to WR #2 on depth chart |
| Patrick Turner | WR | NYJ | Released |
| Dedrick Epps | TE | NYJ | Released |
| Jason Hill | WR | NYJ | Signs |
| Lex Hilliard | HB | NYJ | Signs |
| Aaron Berry | CB | NYJ | Signs, 2yrs |
| Willie Smith | OL | OAK | Decrease, from 68 to 67OVR |
| Desmond Bryant | DL | OAK | Decrease, from 77 to 76OVR |
| Lamarr Houston | DL | OAK | Decrease, from 85 to 84OVR |
| Darren McFadden | HB | OAK | Decrease, from 91 to 90OVR |
| Denarius Moore | WR | OAK | Increase, from 80 to 81OVR |
| Marcel Reece | FB | OAK | Increase, from 84 to 85OVR |
| Jared Veldheer | OL | OAK | Increase, from 88 to 89OVR |
| Andre Carter | DL | OAK | Signs |
| Dallas Reynolds | OL | PHI | Decrease, from 68 to 67OVR |
| Darryl Tapp | DL | PHI | Decrease, from 77 to 76OVR |
| Todd Herremans | OL | PHI | Decrease, from 88 to 87OVR |
| DeMeco Ryans | LB | PHI | Decrease, from 88 to 87OVR |
| Jason Babin | DL | PHI | Decrease, from 94 to 93OVR |
| Trent Cole | DL | PHI | Decrease, from 95 to 94OVR |
| Brandon Hughes | CB | PHI | Increase, from 66 to 68OVR |
| Fletcher Cox | DL | PHI | Increase, from 76 to 77OVR |
| DeSean Jackson | WR | PHI | Increase, from 87 to 88OVR |
| Brent Celek | TE | PHI | Increase, from 87 to 88OVR |
| Michael Vick | QB | PHI | Increase, from 88 to 89OVR |
| Cullen Jenkins | DL | PHI | Increase, from 88 to 89OVR |
| Evan Mathis | OL | PHI | Increase, from 92 to 93OVR |
| Matt Reynolds | OL | PHI | Jersey change to #73 |
| Brian Rolle | LB | PHI | Released |
| Adrian Moten | LB | PHI | Signs |
| Larry English | LB | SD | Decrease, from 74 to 73OVR |
| Robert Meachem | WR | SD | Decrease, from 79 to 77OVR |
| Jarret Johnson | LB | SD | Decrease, from 83 to 82OVR |
| Tyronne Green | OL | SD | Increase, from 70 to 72OVR |
| Corey Liuget | DL | SD | Increase, from 74 to 75OVR |
| Jackie Battle | HB | SD | Increase, from 74 to 76OVR |
| Jeromey Clary | OL | SD | Increase, from 75 to 77OVR |
| Jared Gaither | OL | SD | Increase, from 80 to 81OVR |
| Donald Butler | LB | SD | Increase, from 83 to 84OVR |
| Shaun Phillips | LB | SD | Increase, from 88 to 89OVR |
| Nick Novak | K | SD | Moved to K #1 on depth chart |
| Jared Gaither | OL | SD | Moved to LT #1 on depth chart |
| Micheal Spurlock | WR | SD | Released |
| Nate Kaeding | K | SD | Removed from depth chart (injury) |
| Nick Novak | K | SD | Signs |
| Chris Carr | CB | SD | Signs |
| Reggie Wells | OL | SD | Signs |
| Breno Giacomini | OL | SEA | Decrease, from 73 to 71OVR |
| Braylon Edwards | WR | SEA | Decrease, from 77 to 76OVR |
| Doug Baldwin | WR | SEA | Decrease, from 77 to 76OVR |
| Russell Wilson | QB | SEA | Decrease, from 78 to 77OVR |
| Jason Jones | DL | SEA | Decrease, from 84 to 83OVR |
| Red Bryant | DL | SEA | Decrease, from 84 to 83OVR |
| Robert Turbin | HB | SEA | Increase, from 68 to 70OVR |
| James Carpenter | OL | SEA | Increase, from 69 to 71OVR |
| Clinton McDonald | DL | SEA | Increase, from 69 to 71OVR |
| Bobby Wagner | LB | SEA | Increase, from 73 to 74OVR |
| Russell Okung | OL | SEA | Increase, from 78 to 80OVR |
| Brandon Mebane | DL | SEA | Increase, from 90 to 91OVR |
| Marshawn Lynch | HB | SEA | Increase, from 91 to 92OVR |
| Allen Barbre | OL | SEA | Released |
| David Akers | K | SF | Decrease, from 93 to 91OVR |
| Colin Kaepernick | QB | SF | Increase, from 73 to 74OVR |
| Alex Boone | OL | SF | Increase, from 73 to 76OVR |
| Kendall Hunter | HB | SF | Increase, from 75 to 77OVR |
| Dashon Goldson | S | SF | Increase, from 84 to 86OVR |
| Ahmad Brooks | LB | SF | Increase, from 85 to 86OVR |
| Joe Staley | OL | SF | Increase, from 88 to 89OVR |
| Aldon Smith | LB | SF | Increase, from 89 to 90OVR |
| NaVorro Bowman | LB | SF | Increase, from 91 to 92OVR |
| Mike Iupati | OL | SF | Increase, from 91 to 92OVR |
| Patrick Willis | LB | SF | Increase, from 98 to 99OVR |
| Robert Turner | OL | STL | Decrease, from 69 to 67OVR |
| Rocky McIntosh | LB | STL | Decrease, from 72 to 71OVR |
| Quinn Ojinnaka | OL | STL | Decrease, from 74 to 73OVR |
| Jo-Lonn Dunbar | LB | STL | Decrease, from 74 to 73OVR |
| Quintin Mikell | S | STL | Decrease, from 81 to 80OVR |
| James Laurinaitis | LB | STL | Decrease, from 88 to 87OVR |
| Austin Pettis | WR | STL | Increase, from 65 to 67OVR |
| Wayne Hunter | OL | STL | Increase, from 66 to 67OVR |
| Chris Givens | WR | STL | Increase, from 67 to 68OVR |
| Greg Zuerlein | K | STL | Increase, from 68 to 77OVR |
| Matthew Mulligan | TE | STL | Increase, from 70 to 72OVR |
| William Hayes | DL | STL | Increase, from 73 to 76OVR |
| Bradley Fletcher | CB | STL | Increase, from 76 to 77OVR |
| Janoris Jenkins | CB | STL | Increase, from 77 to 78OVR |
| Danny Amendola | WR | STL | Increase, from 80 to 81OVR |
| Sam Bradford | QB | STL | Increase, from 81 to 82OVR |
| Chris Long | DL | STL | Increase, from 93 to 94OVR |
| Joe Barksdale | OL | STL | Signs |
| Quincy Black | LB | TB | Decrease, from 73 to 71OVR |
| Jeremy Zuttah | OL | TB | Decrease, from 75 to 74OVR |
| Dallas Clark | TE | TB | Decrease, from 81 to 80OVR |
| Ronde Barber | S | TB | Decrease, from 86 to 85OVR |
| Corvey Irvin | DL | TB | Increase, from 61 to 63OVR |
| George Johnson | DL | TB | Increase, from 64 to 67OVR |
| Lavonte David | LB | TB | Increase, from 73 to 75OVR |
| Mike Williams | WR | TB | Increase, from 78 to 79OVR |
| Connor Barth | K | TB | Increase, from 82 to 83OVR |
| Roscoe Parrish | WR | TB | Jersey change to #12 |
| George Johnson | DL | TB | Moved to RE #1 on depth chart |
| Jeff Charleston | DL | TB | Released |
| Nate Byham | TE | TB | Signs |
| Matt Hasselbeck | QB | TEN | Decrease, from 67 to 65CARRY |
| Zac Diles | LB | TEN | Decrease, from 70 to 69OVR |
| Sen'Derrick Marks | DL | TEN | Decrease, from 76 to 75OVR |
| Matt Hasselbeck | QB | TEN | Decrease, from 83 to 81OVR |
| Michael Griffin | S | TEN | Decrease, from 87 to 85OVR |
| Steve Hutchinson | OL | TEN | Decrease, from 87 to 86OVR |
| Kamerion Wimbley | DL | TEN | Decrease, from 87 to 86OVR |
| Craig Stevens | FB | TEN | Increase, from 71 to 76OVR |
| Kendall Wright | WR | TEN | Increase, from 74 to 75OVR |
| Jurrell Casey | DL | TEN | Increase, from 82 to 83OVR |
| Jason McCourty | CB | TEN | Increase, from 83 to 84OVR |
| Chris Johnson | HB | TEN | Increase, from 85 to 87OVR |
| Michael Roos | OL | TEN | Increase, from 91 to 92OVR |
| Jake Locker | QB | TEN | Lowered on depth chart (injury) |
| Matt Hasselbeck | QB | TEN | Moved to QB #1 on depth chart |
| Madieu Williams | S | WAS | Decrease, from 77 to 76OVR |
| Kory Lichtensteiger | OL | WAS | Decrease, from 78 to 77OVR |
| Billy Cundiff | K | WAS | Decrease, from 79 to 77OVR |
| Jarvis Jenkins | DL | WAS | Increase, from 74 to 76OVR |
| Alfred Morris | HB | WAS | Increase, from 75 to 77OVR |
| DeAngelo Hall | CB | WAS | Increase, from 85 to 86OVR |
| Trent Williams | OL | WAS | Increase, from 89 to 90OVR |
| Jason Shirley | DL | WAS | Released |
| Eric Kettani | FB | WAS | Signs |
| DeAngelo Peterson | TE | WAS | Signs |
| Chigbo Anunoby | DL | WAS | Signs |
| Dominique Hamilton | DL | WAS | Signs |
| Javarris Williams | HB | WAS | Signs |