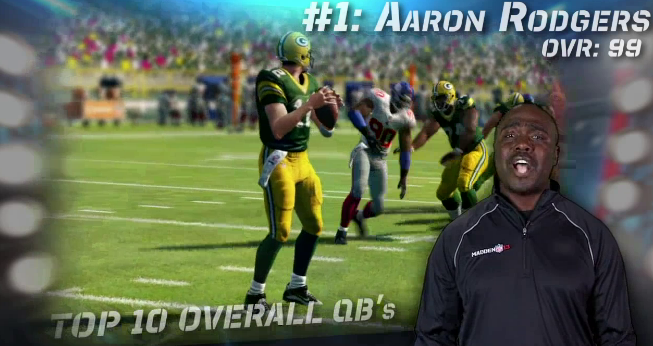 EA Sports has released the top 10 highest rated quarterbacks in Madden 13.  The group is led by Aaron Rodgers at 99 overall with Tom Brady and Drew Brees 1 point overall behind at 98.
The most shocking rating is Broncos' quarterback Peyton Manning rated only 93 overall well behind Steelers' QB Ben Roethlisberger at 95 overall.  Younger brother Eli is the #4 rated qb at 97 overall.
Michael Vick (89), Tony Romo (90), Matt Stafford (91), and Phillip Rivers (92) round out the top 10.  The full video is below.  Who do you think is overrated or underrated?  Let us know in the comments section.
The Top 10 Overall QB's in Madden NFL 13 revealed by Ratings Correspondent Marshall Faulk!