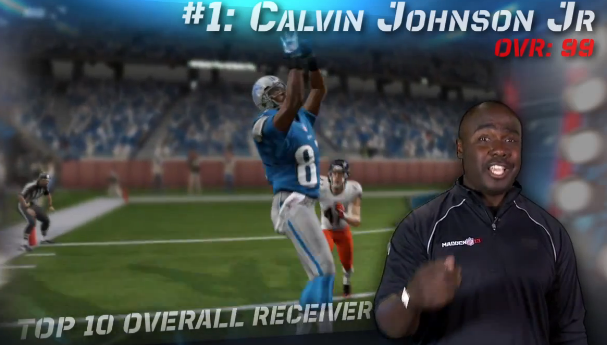 The top 10 highest rated tight ends and wide receivers were released by EA Sports rating correspondent Marshall Faulk today with Madden 13 cover athlete Calvin Johnson Jr. leading the way at 99 overall.  New England Patriot's tight end Rob Gronkowski is the highest rated tight end at 97 overall.  Here is the top 10 list:
Calvin Johnson
Rob Gronkowski
Larry Fitzgerald
Vernon Davis
Andre Johnson
Jimmy Graham
Steve Smith
Wes Welker
Roddy White
Hakeem Nicks
The full video is below.  Who do you think should be on this list?  Who shouldn't?  Leave your thoughts in the comments section.
The Top 10 Overall Receivers in Madden NFL 13 revealed by Ratings Correspondent Marshall Faulk!