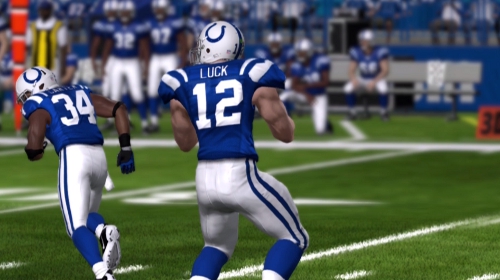 In a draft that started with a quarterback… "With the first overall pick in the 2012 NFL Draft the Indianapolis Colts select Andrew Luck from Stanford University." It seemed fitting that it ended with one after the Colts selected none other then Mr. Irrelevant himself, Chandler Harnish with the 217th overall pick. In between the Colts new starter and the hopeful third stringer, nine other quarterbacks were selected and a few undrafted to boot. With the likes of highly touted Robert Griffin III, a somewhat risky pick in Ryan Tannehill and the unusual wisdom that came with 28 year old rookie Brandon Weeden, the league is showing a consistent pattern of giving the biggest job in the sport to a rookie.
Over the past couple years there have been plenty of hits: Cam Newton, Andy Dalton, Matthew Stafford, Matt Ryan, Joe Flacco, Sam Bradford. There has also been a fair share of misses: JaMarcus Russell, Jimmy Clausen, Brady Quinn, Matt Leinert. Who knows whether any of this years picks will turn out to be a Cam Newton or a JaMarcus Russell? I don't.
Looking at the current NFL rosters it is obvious that the talent at the quarterback position has never been any higher. With the exception of maybe two or three teams, there are more able quarterbacks behind center then ever before. Many teams have some great competition at the position and some tough decisions regarding their depth chart in the near future. Coming off a season that had three 5,000 yard passers and a league that continues to favor the position, I do not see any drop-off in production anytime soon.
Adding to the excitement at the position is the ever-evolving emergence of the mobile quarterback. It used to be that if you didn't have Mike Vick on your team, your quarterback wasn't much of a double threat. That was then. In Madden 13 nearly any team you pick at the selection menu will give you a mobile quarterback somewhere on the depth chart. Forget overall ratings! Just look for that always dangerous speed rating. I counted over twenty quarterbacks in this year's game with an 80 or higher speed rating. Each of them a threat.
As we anticipate the following weeks until the official release date August 28th, do your homework Madden-Schoolers. Download that demo, get your fantasy football draft going, do your research and watch your preseason. Besides the few diehards that play with one team and one team only, I promise you that this year will have many of you scratching your heads at the team selection menus. It will not be an easy task to choose between the vast selections of talented quarterbacks in this years Madden. The year of the quarterback.
Article Written By Madden-School Contributor, LayinWood.