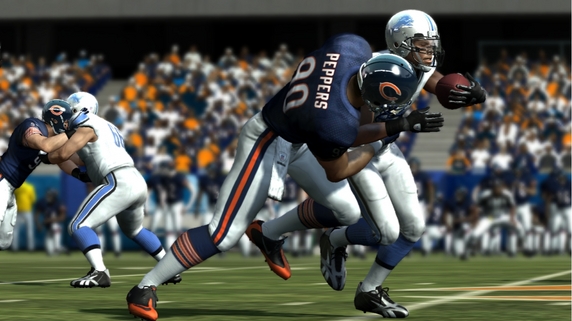 5. Justin Tuck
Being drafted by a 2005 New York Giants team that already had the likes of Michael Strahan and Osi Umenyiora cemented as starters gave little hope to Tuck having much of a presence early in his career. Tuck delivered with every chance he was given and really shined on the biggest stage of all. At Super Bowl XLII it was obvious that Tuck played a big factor in the victory, recording 2 sacks and a forced fumble repeatedly keeping Tom Brady uneasy. After Michael Strahan retired that offseason is when Tuck finally got into the starting role and hasn't looked back since. Replacing Strahan seemed impossible yet Tuck made it seem but all too easy. His mixture of speed and strength off the edge is unmatched. It will be fun to experiment with the Giants all new "Nascar" defense in which Tuck is moved to the inside of the defensive line.
4. Ndomukong Suh
This man keeps no secrets when it comes to his plans on Sunday: Kill the quarterback. Though roughing penalties have somewhat hurt his reputation, there is no denying the fear he puts in opposing quarterbacks. Athletes like this don't come around too often. We are talking about 6'4'' 307 pound monster who has already accounted for 14 sacks as a defensive tackle in just 30 games. It would be a tough argument to say there are any players in the league that match his size, speed, and agility playing on the defensive line. The only thing keeping Suh from being number 1 on the list is the fact that he has yet learned to tame his overly aggressive play style. I have a feeling that defensive lineman will be playing a much bigger factor in Madden 13 and that having a player of Ndomukong Suhs' caliber will leave a mark on the final outcome of a game.
3. Justin Smith
After 11 seasons in the trenches this big man continues to progress into one of the greatest defensive lineman in the game. Good luck finding anything lacking with his game. He is easily one of the best run stoppers, making holes disappear before the running back can get to the other side and having a knack for always being in the right spot. His resume doesn't stop there. With 72.5 sacks, 14 forced fumbles and an impressive 3 interceptions to date, he is quietly putting together a hall of fame career. Since coming to San Francisco in 2008 Smith has shown his value of being able to lineup anywhere on the line. Starting a franchise and need a great anchor for your 3-4 defense? I wouldn't look any farther then Justin Smith.
2. Julius Peppers
Yeah, his name may sound like an appetizer from Applebee's. Don't sell this UNC graduate short for toughness. Just ask Matthew Stafford's shoulder after taking a nasty blind side sack from the big man. Peppers is a dynamic pass rusher with 100 sacks to date. His ability to create turnovers is why he sits so high on the list. Peppers has 8 interceptions and has forced 36 forced fumbles. The fact that he played both football and basketball in college says a lot about his god given athletic abilities. Utilizing Peppers in Madden 13 should be no problem, whether it be coming in for a sack, stuffing the run, or sniffing out the always deadly halfback screens.
1. Jared Allen
The one thing I might miss from Madden 12 is the screaming of Gus Johnson as a play was made by Jared Allen. "The Rodeo" Jared Allen is truly a one of a kind talent. His never slowing motor sets him well in front of the pack. Year after year he continues to put up big numbers. Though Allen hasn't had much success when it comes to the win-loss column, it's easy to say that he has never contributed to a single loss. Quite possibly the most charismatic player in the league, Allen hog-ties quarterbacks one after the other racking up a staggering 105 sacks in just nine seasons. The Minnesota Vikings may not be the sexiest pick in Madden 13, but being able to play as Jared Allen just might be worth the shot.