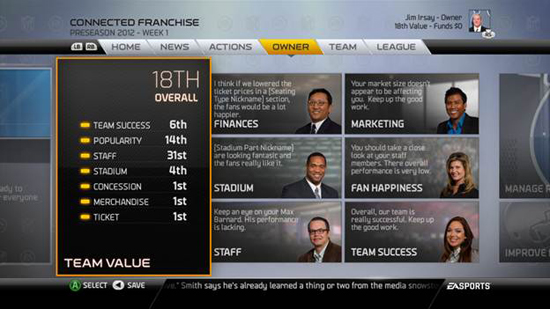 Madden 25 is bringing back one of the most beloved features in it's 25 year history: Owner Mode.  Fans will be able to act as if they were the owner of their favorite team by hiring advisers, upgrading their stadium, setting merchandise and concession prices and even relocating the team to a different city.
A few other notable changes to the connected franchise mode in Madden 25 include an overhaul to the player progression system.  Older players will no longer be able to progress nearly as fast as in Madden 13.  Young players have always commanded a huge premium in the Madden NFL franchise and this news will only add to that.
Breakout stars can now emerge as well.  In last year's game if you had a good season, you could only progress a few points.  That wasn't realistic and it looks like it will be addressed.  If you have a player on your team who has been putting up stats like a 90 overall player, he will start to progress to that point much faster even if he is only a 60 overall at the time.
You can check out the owner mode trailer below and let us know your thoughts in the comments section or on our Madden 25 forum.
Madden 25 Connected Franchise Trailer featuring Owner Mode