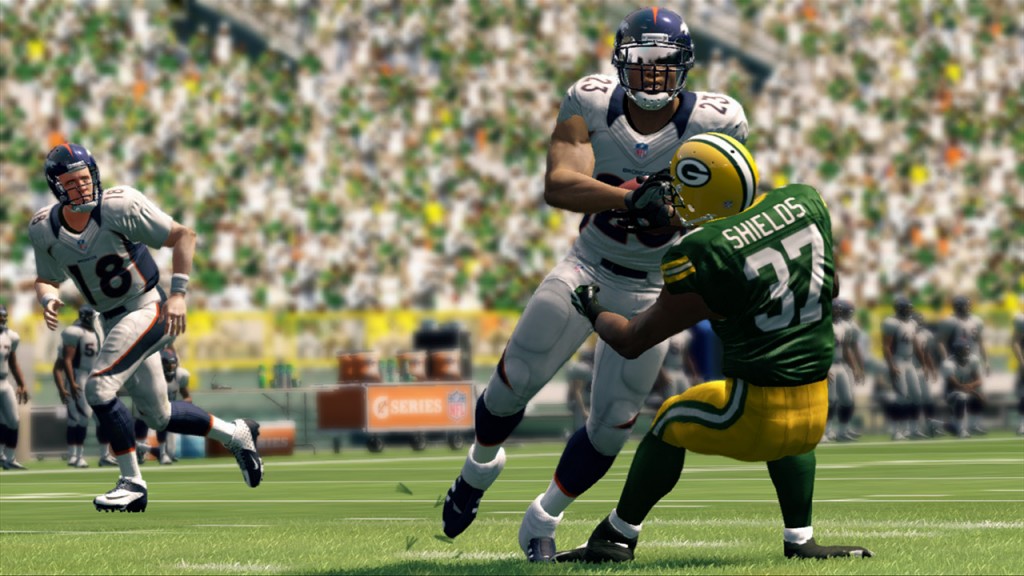 Now that the first round of the NFL Draft is complete, it's time to analyze each pick's potential Madden impact.  Plenty of teams in the first half of the draft completely wasted their picks while some teams toward the back half found some absolutely Madden 25 gems.  See what our experts think below.
Chiefs – Eric Fisher OT – In terms of Madden, this isn't a very good pick.  Unless you have 4 or 5 beasts on your o-line, you won't see much of an impact out of any of them.  He will have an 80+ overall rating from day 1 but Chiefs fans won't notice much of a different with him in the game
Jaguars – Luke Joeckel OT – Again, although it makes sense for the organization, this pick has no immediate impact on Madden 25.  80+ overall from day 1
Dolphins – Dion Jordan OLB – While this may have been a reach for the Dolphins, it was not at all a reach in terms of Madden impact.  Pass rusher is a hugely important position in Madden and they got a ratings freak.  Look for around a 78 overall but very good stats that matter (Speed, finesse moves, acceleration, etc).
Eagles – Lane Johnson OT – Out of all of the offensive tackles taken in the first round, Johnson will have the biggest impact.  Madden 25 ratings czar, Donny Moore, confirmed via twitter that he will have 78-81 speed.  He will be a great fit for a Madden team that runs screens and moves their lineman around often.  Keep in mind though, that he is an offensive tackle so his impact will be minimal.
Lions – Ziggy Ansah DE – He will come in with good stats. Decent speed, high strength, servicable pass rush moves.  Look for him to make an impact similar to Dion Jordan at #3.
Browns – Barkevious Mingo DE – In Madden 25, Mingo will essentially be a poor man's Dion Jordan.  Good speed and ability to rush the quarterback.  He'll make an impact right away on the virtual gridiron.
Cardinals – Jonathan Cooper OG – Rumors are that he will have an 84 overall rating in Madden 25 which would be the highest of anyone taken.  The problem is that the difference between a 74 overall guard and an 84 overall guard isn't noticable.  In terms of Madden, this is a completely wasted pick.
Rams – Tavon Austin WR – Huge boom or bust pick in the form of a Desean Jackson or Ted Ginn Jr pick.  None of that matters though in Madden.  He will have insane stats like 96+ speed, 96+ elusiveness, 96+ accel, 96+ agility, and decent catching attributes.  If this draft was run by Madden 25 general managers, he would be a top 3 pick for sure
Jets – Dee Millner CB – Any experienced Madden gamer will tell you that the one position you can't even have enough of is defensive back.  It is common for 6 or more to be on the field at any one time.  That makes Dee Millner a great Madden NFL 25 pick just based on the fact that he will have great coverage skills coming into the game.
Titans– Chance Warmack OG – See our comments on Jonathan Cooper and apply them to Warmack.
Chargers  – D.J. Fluker OT – See our comments on Fisher or Joeckel above.  No real Madden impact to be had here.
Raiders – D.J. Hayden CB – Anyone else remember the Raiders Madden dominance from Madden 09 to Madden 12?  That was all due to having a whole stable of fast, talented, and athletic cornerbacks.  Hayden fits that mold exactly.  This was an awesome Madden pick and Raiders fans will see an impact on the virtual gridiron right out of the gates.
Jets – Sheldon Richardson DT – For the 13th overall pick, this is a huge waste in terms of Madden.   Sure good defensive tackles can have a little impact but the Jets have so many more needs in Madden 25 like pass rusher, speedy running back, wide receiver, cornerback, and linebacker.  Wasted pick.
Panthers – Star Lotulelei DT – See the Jets comments above except that the Panthers aren't nearly as bad of a team as the Jets in Madden 25.
Saints – Kenny Vaccaro S -First round safeties in Madden are about as dominant as can be.  Even if they turn out to be huge busts, they will maintain their important stats.  If you get a good one, you have a huge impact player (Troy Polamalu, Ed Reed, Earl Thomas, Eric Berry, etc) or you get a bust that is still an insanely good Madden player (Reggie Nelson, Laron Landry, etc).  You can't go wrong with this pick.
Bills – E.J. Manual QB – You can't go wrong with a smart, athletic, and strong armed quarterback in Madden 25.  No matter how bad he performs in the league, he will still maintain his speed and throw power rating which are both essential to any qb in Madden games.
Steelers – Jarvis Jones OLB – The Steelers drafting a linebacker in the first round pretty much guarantees he will be a stud.  The problem is the bad 40 time Jones ran at the combine will affect his speed rating coming into the year.  Pass Rushing outside linebackers with under 80 speed are fairly useless in Madden.
49ers – Eric Reed S – See out comments on Kenny Vaccaro at #15.  By plugging him into the 49ers already amazing Madden defense, you will notice a difference right away.  Again, even if he turns out to be a bust, he will have the raw stats that hardcore gamers drool over.
Giants – Justin Pugh OT – Probably the most useless Madden pick of the first round.  At least with the other tackles taken, you will see a high overall rating.  With Pugh, you likely won't see a rating over 75 overall.
Bears – Kyle Long OG – See our remarks above on Pugh and apply them here.
Bengals – Tyler Eifert TE – He will be a big time playmaker in Madden.  He will have great catch, spectacular catch, and catch in traffic.  Couple that with decent speed, great jumping, and his big body and you have a top 5 Madden 25 player in this draft.
Falcons – Desmond Trufant CB – You can never have enough defensive backs in Madden so this is a great Madden value pick.
Vikings – Sharrif Floyd DT – While this was probably the steal of the draft, it is a useless Madden pick.  The Vikings will have an awesome tandem at DT but that doesn't do as much as having an awesome tandem of wrs, cornerback, running backs, linebackers or safeties.
Colts – Bjoern Werner DE – 3-4 defensive ends don't do much for you in Madden unless you are talking about absolutely beasts like Haloti Ngata.  Colts fans shouldn't expect much of an impact right away from Werner in M25.
Vikings – Xavier Rhodes CB – Awesome Madden 25 pick that will make a difference right away.  Noticing a theme here on how important good cornerbacks are in Madden?
Packers – Datone Jones DE – Again, like many above him, absolutely awesome player but he just doesn't play a position that makes him all that valuable in Madden 25.  Solid combine numbers will make him fairly relevant though.
Texans – Deandre Hopkins WR – A great pick based purely on Madden.  He didn't have great combine numbers which is the only thing holding this back from being an awesome pick.  He will make an impact on the virtual gridiron.
Broncos – Sylvester Williams DT – Not at all a helpful pick in terms of Madden.  The Broncos could have really used a halfway decent running back to put them into the category as an elite team in Madden 25.
Vikings – Cordarrelle Patterson WR – The vikings knocked this pick out the park.  Big play wide receivers are so hard to find in Madden and that is exactly what Patterson is.
Rams – Alec Ogletree LB – A young elite MLB is truly one of the rarest things to find in Madden 25.  He will have the raw stats to make an impact right away.
Cowboys – Travis Frederick C – Terrible Madden pick
Ravens – Matt Elam S – See Kenny Vaccaro and Eric Reid above.  With first round safeties, you truly cannot go wrong in Madden.
Which rookies do you think will have the biggest impact in Madden 25?  Let us know in the comments section below.