There are new items constantly dropping in Madden Ultimate Team, and it can be tough to keep up with the endless stream of new player items, missions and objectives. No worries, the pros at Madden School have you covered. New Ultimate Team Heavyweight and Flashback player items are now available in the training store and auction houses. 
If you're not already familiar with the Flashback, Veteran and Heavyweight player items, here's a brief overview. Heavyweight items are players who play along the offensive and defensive lines where Veteran items are, of course, versions of veteran players.
Flashback player items are versions of those players taken from outstanding, memorable performances from seasons or games past.
The latest MUT 20 Heavyweights are Marshal Yanda from the Baltimore Ravens and Justin Houston from the Indianapolis Colts. Yanda, a pro bowl guard, and Houston, a pro bowl pass rusher, play in the trenches and will undoubtedly bolster your Madden Ultimate Team.
Yanda and Houston's items can be found in training packs and purchased from the MUT 20 store. The Heavyweight packs can be purchased for 1780 training points or purchased from the auction house.
Both Heavyweights have been given an 88 overall rating, making them two of the highest rated players at their respective positions.
You can see each player's current going rate in the auction house by looking under the 'New In The Training Store' section located under the 'Missions' tab in your Ultimate Team main menu. You can also go directly to the auction house to purchase these items from this menu.
Current auction house prices, as of writing this, have Yanda selling for a whopping 112,250 coins while Houston is going for slightly less at 109,850. The current rates can be found once you go into the Heavyweights section as mentioned above or by searching for each individual player once you're in the auction house.
Be aware that it is typical for the Ultimate Team market to fluctuate prices, and these items may cost significantly more than the amounts stated above.
This is the case for all player items listed in the auction house, so timing is crucial when searching for the best prices.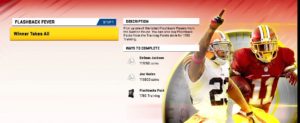 To go with the newly dropped Heavyweight items are two new Flashback player items. The latest Flashback players to drop are WR DeSean Jackson and CB Joe Haden. These items are available in training packs as well, and they can be purchased for the same amount of training as their Heavyweight counterparts.
The Flashback player packs will cost you 1780 training points in the MUT 20 store, or you can purchase them from the auction house where available. Currently, Jackson's item is selling for 117,250 coins while Haden's item is going for 115,600 coins.
Both player items have been rated an 88 overall and are two of the highest rated players at their respective positions in MUT 20. Haden and Jackson's Flashback items will certainly add significant value to your Ultimate Team, likely boosting your overall ratings for your team in general plus your individual offensive and defensive unit ratings.
As always, the pros at Madden School are dedicated to keeping you up to date with all of the latest news, updates and info from around the world of Madden NFL 20.
Want to take your Madden game to the next level? Sign up for a Madden School Unlimited Membership today, and you'll instantly gain exclusive access to professionally developed ebooks plus 24/7 support from the pros.  
Don't wait any longer. Start lighting up the scoreboard and register for your Unlimited Membership. You'll be schooling your competition before you know it.