EA Sports has been dropping new players nearly every single day over the past couple of weeks. Saturday, new Ultimate Legends Walter Payton and Night Train Lane were made available, and you can add the players to your Madden Ultimate Team by completing their player sets and beating their Ultimate Legends Solo Challenges.
As most of you know, adding new players to your Ultimate Team squad is usually done by completing various Solo Challenges, buying packs from the store and completing sets. You'll see there are three new Ultimate Legends Solo Challenges made available Saturday at 10:30 am ET, and after beating their respective Solo Challenges under the Ultimate Legends Challenges, you'll earn a power up version of Walter Payton and Night Train Lane. The Ultimate Legends challenge should be the first one in the list of MUT 19 Solo Challenges when you go into your solos menu in MUT 19.
Both challenges require you play full games with 4 minute quarters. You'll have to beat Payton's Bears, rated a 90 overall, and Night Train's Lions, rated an 89 overall,. Each Ultimate Legend has been added to their respective team's modern day roster. The Solo Challenges are set to Arcade Mode with All-Pro difficulty. You'll go up against a 95 overall Walter Payton and a dominant 98 overall Night Train Lane. This definitely makes each game challenging as its hard to stop Chicago's running game and then establish the pass against Detroit's defense.
After successfully completing each challenge, players earn 3,000 coins and an 80 overall power up version of Payton and Lane. Earning the maxed out Ultimate Legend versions of either player means that you will have to complete their player sets in the Ultimate Legend Player Sets.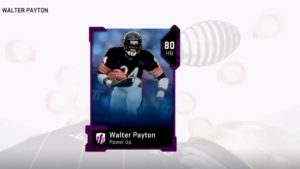 The rosters for both the Bears and Lions are comprised of the highest rated version of each player from throughout the MUT 19 season. For example, Bears QB Mitchell Trubisky is rated 92 overall, the rating for his Player of The Week Item, and Lions CB Darius Slay is rated a 93 overall, the rating from his Harvest Player Item.
The last challenge in the category pits you against the 94 overall All-Legends Team set on Arcade Mode and Pro Difficulty. Of course, both Payton and Night Train are starters at their respective positions on this team as well. The fact that this game is set to Pro Difficulty as opposed to All-Pro like the other two challenges does not make it easier to complete. Aside from Walter Payton at HB and Night Train Lane at CB, other starters on the All-Legends roster include a 98 overall Calvin Johnson at WR, a 95 overall Otto Graham at QB and a 98 overall Sean Taylor at FS.
Completing the final challenge earns you an Ultimate Legend Token, an Ultimate Legend player item, which is one of five player items needed to complete the set, and just the previous two challenges you also earn 3,000 coins. We earned a 90 overall "Physical" Walter Payton with a 95 SPD and a 96 rating for both his ACC and AGI. An item like this one can certainly make a big difference on any squad, especially if you can improve other areas by assigning chemistry. You also have the option to quick sell your item.
Our version of Payton quick sells for a couple of thousand training points, which of course can be used to power up one of the other two player items you just earned. Each player's power up item were selling in the auction house for around 2,000 to 4,000 coins immediately after the Madden community had a chance to earn the items and post them for sale. Keep in mind that some power up items will easily sell for between 1,000 and 5,000 coins.
EA promises that more Ultimate Legends are certainly on their way. Which legends would you like to see added to MUT 19's list of players? Are you adding either Payton or Night Train to your Ultimate Team? Join the conversation in the comments section below.
New to Madden Ultimate Team? Check out Madden School on Twitch and watch live Ultimate Team gameplay streams and more.