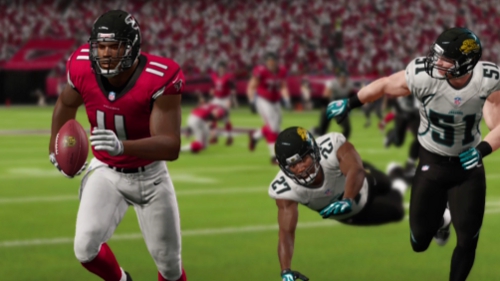 The Week 7 roster update goes live on Friday, October 19th.  The 49ers who have been receiving some of the largest rating updates in recent memory have finally been toned down a little big following the crushing loss the New York Giants gave them last weekend.
The Green Bay Packers saw a huge ratings increase following their big win against the previously undefeated Houston Texans.  The Packers and 49ers are still easily 2 of the best teams in Madden 13 so fans of both teams shouldn't be worried.
J.J. Watt of the Texans got a 2 point ratings boost to move him up to 96 overall and Minnesota Vikings receiver Percy Harvin also went up 2 points to 91 overall after demonstrating he is one of the best receivers in the league after the first part of this year's NFL Season.
The full details are below.  Who do you think deserves an increase or decrease in ratings?  Let us know your opinion in the comments section.
| | | | |
| --- | --- | --- | --- |
| D'Anthony Batiste | OL | ARZ | Decrease, from 59 to 55OVR |
| Adam Snyder | OL | ARZ | Decrease, from 69 to 68OVR |
| La'Rod Stephens-Howling | HB | ARZ | Decrease, from 74 to 73OVR |
| Early Doucet | WR | ARZ | Decrease, from 74 to 73OVR |
| John Skelton | QB | ARZ | Decrease, from 75 to 74OVR |
| Sam Acho | LB | ARZ | Decrease, from 76 to 75OVR |
| Andre Roberts | WR | ARZ | Decrease, from 77 to 76OVR |
| Darnell Dockett | DL | ARZ | Decrease, from 91 to 90OVR |
| Adrian Wilson | S | ARZ | Decrease, from 96 to 95OVR |
| Jamell Fleming | CB | ARZ | Increase, from 67 to 68OVR |
| William Powell | HB | ARZ | Increase, from 68 to 71OVR |
| O'Brien Schofield | LB | ARZ | Increase, from 78 to 79OVR |
| Kevin Kolb | QB | ARZ | Lowered on depth chart (injury) |
| John Skelton | QB | ARZ | Moved to QB #1 on depth chart |
| Pat McQuistan | OL | ARZ | Moved to RT #2 on depth chart |
| Crezdon Butler | CB | ARZ | Released |
| Pat McQuistan | OL | ARZ | Signs |
| Jacquizz Rodgers | HB | ATL | Decrease, from 79 to 78OVR |
| Dunta Robinson | CB | ATL | Decrease, from 84 to 83OVR |
| Thomas DeCoud | S | ATL | Decrease, from 86 to 85OVR |
| Michael Turner | HB | ATL | Decrease, from 90 to 89OVR |
| Matt Ryan | QB | ATL | Decrease, from 92 to 91OVR |
| Tyson Clabo | OL | ATL | Decrease, from 92 to 91OVR |
| Vance Walker | DL | ATL | Increase, from 71 to 73OVR |
| Asante Samuel | CB | ATL | Increase, from 88 to 89OVR |
| John Abraham | DL | ATL | Increase, from 91 to 93OVR |
| Arthur Jones | DL | BAL | Decrease, from 74 to 73OVR |
| Ed Dickson | TE | BAL | Decrease, from 75 to 74OVR |
| Paul Kruger | LB | BAL | Decrease, from 78 to 77OVR |
| Jameel McClain | LB | BAL | Decrease, from 80 to 79OVR |
| Jimmy Smith | CB | BAL | Decrease, from 80 to 79OVR |
| Ray Lewis | LB | BAL | Decrease, from 94 to 93OVR |
| Ed Reed | S | BAL | Decrease, from 97 to 96OVR |
| Courtney Upshaw | LB | BAL | Increase, from 72 to 73OVR |
| Kelechi Osemele | OL | BAL | Increase, from 72 to 74OVR |
| Dennis Pitta | TE | BAL | Increase, from 77 to 78OVR |
| Lardarius Webb | CB | BAL | IR – ACL |
| Ray Lewis | LB | BAL | IR – torn triceps |
| Jameel McClain | LB | BAL | Moved to MLB #1 on depth chart |
| Dannell Ellerbe | LB | BAL | Moved to MLB #2 on depth chart |
| Bobby Rainey | HB | BAL | Signs |
| Ryan Fitzpatrick | QB | BUF | Decrease, from 81 to 80OVR |
| Justin Rogers | CB | BUF | Increase, from 63 to 66OVR |
| Kyle Moore | DL | BUF | Increase, from 70 to 72OVR |
| Alex Carrington | DL | BUF | Increase, from 70 to 72OVR |
| Chris Hairston | OL | BUF | Increase, from 71 to 73OVR |
| Corey McIntyre | FB | BUF | Increase, from 74 to 75OVR |
| Chris Kelsay | DL | BUF | Increase, from 77 to 79OVR |
| Marcell Dareus | DL | BUF | Increase, from 85 to 86OVR |
| C.J. Spiller | HB | BUF | Increase, from 86 to 87OVR |
| Jairus Byrd | S | BUF | Increase, from 89 to 90OVR |
| Mark Anderson | DL | BUF | Lowered on depth chart (injury) |
| Chris Kelsay | DL | BUF | Moved to RE #1 on depth chart |
| Chad Rinehart | OL | BUF | Moved to RG #1 on depth chart |
| Jay Ross | DL | BUF | Released |
| Shawne Merriman | DL | BUF | Signs |
| T.J. Heath | CB | BUF | Signs |
| Reggie Stephens | OL | BUF | Signs |
| Mana Silva | S | BUF | Signs |
| Andrew Jackson | OL | BUF | Signs |
| Mike Pollak | OL | CAR | IR |
| Ryan Kalil | OL | CAR | IR – foot |
| Jeff Byers | OL | CAR | Moved to C #1 on depth chart |
| Thomas Austin | OL | CAR | Signs |
| Kahlil Bell | HB | CHI | Released |
| Chris Williams | OL | CHI | Released |
| Kamar Aiken | WR | CHI | Signs |
| Brody Eldridge | TE | CHI | Signs |
| Zach Bowman | CB | CHI | Signs |
| Andy Dalton | QB | CIN | Decrease, from 74 to 71CARRY |
| Jeff Faine | OL | CIN | Decrease, from 76 to 74OVR |
| Domata Peko | DL | CIN | Decrease, from 84 to 83OVR |
| Carlos Dunlap | DL | CIN | Decrease, from 86 to 85OVR |
| Cedric Peerman | HB | CIN | Increase, from 65 to 67OVR |
| Vontaze Burfict | LB | CIN | Increase, from 68 to 70OVR |
| Kevin Zeitler | OL | CIN | Increase, from 78 to 80OVR |
| Andre Smith | OL | CIN | Increase, from 81 to 82OVR |
| Jermaine Gresham | TE | CIN | Increase, from 81 to 83OVR |
| A.J. Green | WR | CIN | Increase, from 92 to 93OVR |
| Greg Little | WR | CLE | Decrease, from 74 to 73OVR |
| Frostee Rucker | DL | CLE | Decrease, from 78 to 77OVR |
| Josh Cooper | WR | CLE | Increase, from 61 to 62OVR |
| John Greco | OL | CLE | Increase, from 68 to 71OVR |
| Josh Gordon | WR | CLE | Increase, from 68 to 72OVR |
| Montario Hardesty | HB | CLE | Increase, from 72 to 74OVR |
| Brandon Weeden | QB | CLE | Increase, from 74 to 75OVR |
| Mitchell Schwartz | OL | CLE | Increase, from 76 to 77OVR |
| Ben Watson | TE | CLE | Increase, from 77 to 80OVR |
| Sheldon Brown | CB | CLE | Increase, from 82 to 83OVR |
| Joe Haden | CB | CLE | Moved to CB #1 on depth chart |
| Thaddeus Lewis | QB | CLE | Released |
| Kevin Ogletree | WR | DAL | Decrease, from 73 to 72OVR |
| Miles Austin | WR | DAL | Decrease, from 89 to 88OVR |
| Brandon Carr | CB | DAL | Decrease, from 89 to 88OVR |
| Jay Ratliff | DL | DAL | Decrease, from 92 to 90OVR |
| Alex Albright | LB | DAL | Increase, from 59 to 61OVR |
| Phil Costa | OL | DAL | Increase, from 73 to 75OVR |
| Nate Livings | OL | DAL | Increase, from 76 to 77OVR |
| Felix Jones | HB | DAL | Increase, from 77 to 79OVR |
| Dez Bryant | WR | DAL | Increase, from 85 to 86OVR |
| Tony Romo | QB | DAL | Increase, from 89 to 90OVR |
| Sean Lee | LB | DAL | Increase, from 89 to 90OVR |
| Barry Church | S | DAL | IR – achilles |
| DeMarco Murray | HB | DAL | Lowered on depth chart (injury) |
| Matt Johnson | S | DAL | Moved to FS #2 on depth chart |
| Felix Jones | HB | DAL | Moved to HB #1 on depth chart |
| Danny McCray | S | DAL | Moved to SS #1 on depth chart |
| Robert Ayers | DL | DEN | Decrease, from 74 to 72OVR |
| Dan Koppen | OL | DEN | Decrease, from 80 to 78OVR |
| Tony Carter | CB | DEN | Increase, from 66 to 69OVR |
| Chris Harris | CB | DEN | Increase, from 73 to 74OVR |
| Wesley Woodyard | LB | DEN | Increase, from 74 to 75OVR |
| Brandon Stokley | WR | DEN | Increase, from 76 to 77OVR |
| Eric Decker | WR | DEN | Increase, from 82 to 83OVR |
| Elvis Dumervil | DL | DEN | Increase, from 87 to 88OVR |
| Ryan Clady | OL | DEN | Increase, from 89 to 90OVR |
| Peyton Manning | QB | DEN | Increase, from 94 to 95OVR |
| Ronnie Hillman | 3DRB | DEN | Moved to 3DRB #1 on depth chart |
| Trindon Holliday | WR | DEN | Signs |
| Willie Young | DL | DET | Decrease, from 74 to 73OVR |
| Titus Young Sr. | WR | DET | Decrease, from 75 to 73OVR |
| Sammie Hill | DL | DET | Decrease, from 77 to 76OVR |
| Kevin Smith | HB | DET | Decrease, from 79 to 77OVR |
| Jeff Backus | OL | DET | Decrease, from 82 to 80OVR |
| Gosder Cherilus | OL | DET | Decrease, from 82 to 81OVR |
| Brandon Pettigrew | TE | DET | Decrease, from 83 to 82OVR |
| Chris Houston | CB | DET | Decrease, from 84 to 83OVR |
| Matthew Stafford | QB | DET | Decrease, from 90 to 89OVR |
| Jonte Green | CB | DET | Increase, from 64 to 66OVR |
| Tony Scheffler | TE | DET | Increase, from 77 to 78OVR |
| Nick Fairley | DL | DET | Increase, from 78 to 80OVR |
| Dominic Raiola | OL | DET | Increase, from 82 to 84OVR |
| Cliff Avril | DL | DET | Increase, from 88 to 89OVR |
| Jason Hanson | K | DET | Increase, from 90 to 92OVR |
| Erik Walden | LB | GB | Decrease, from 72 to 71OVR |
| James Starks | HB | GB | Decrease, from 74 to 72OVR |
| Jermichael Finley | TE | GB | Decrease, from 85 to 84OVR |
| Tom Crabtree | TE | GB | Increase, from 65 to 68OVR |
| Evan Dietrich-Smith | OL | GB | Increase, from 67 to 68OVR |
| Jerel Worthy | DL | GB | Increase, from 68 to 70OVR |
| M.D. Jennings | S | GB | Increase, from 68 to 70OVR |
| Alex Green | HB | GB | Increase, from 69 to 70OVR |
| Casey Heyward | CB | GB | Increase, from 71 to 72OVR |
| Randall Cobb | WR | GB | Increase, from 79 to 80OVR |
| James Jones | WR | GB | Increase, from 82 to 83OVR |
| A.J. Hawk | LB | GB | Increase, from 84 to 85OVR |
| Bryan Bulaga | OL | GB | Increase, from 87 to 88OVR |
| Jordy Nelson | WR | GB | Increase, from 89 to 92OVR |
| Cedric Benson | HB | GB | IR |
| D.J. Smith | LB | GB | IR – torn ACL |
| Brandon Saine | HB | GB | IR – torn ACL |
| Greg Jennings | WR | GB | Lowered on depth chart (injury) |
| Erik Walden | LB | GB | Moved to LOLB #2 on depth chart |
| Brad Jones | LB | GB | Moved to MLB #2 on depth chart |
| Jordy Nelson | WR | GB | Moved to WR #1 on depth chart |
| Johnny White | HB | GB | Signs |
| Glover Quin | S | HOu | Decrease, from 79 to 78OVR |
| Brooks Reed | LB | HOU | Decrease, from 81 to 80OVR |
| Matt Schaub | QB | HOU | Decrease, from 90 to 89OVR |
| Johnathan Joseph | CB | HOU | Decrease, from 94 to 93OVR |
| Garrett Graham | TE | HOU | Increase, from 70 to 72OVR |
| J.J. Watt | DL | HOU | Increase, from 94 to 96OVR |
| Tim Jamison | DL | HOU | IR – achilles |
| Keshawn Martin | WR | HOU | Moved to PR #1 on depth chart |
| Trindon Holliday | WR | HOU | Released |
| Barrett Rudd | LB | HOU | Signs |
| Ricardo Mathews | DL | IND | Decrease, from 68 to 67OVR |
| Jeff Linkenbach | OL | IND | Decrease, from 73 to 72OVR |
| Tom Zbikowski | S | IND | Decrease, from 79 to 78OVR |
| Samson Satele | OL | IND | Decrease, from 83 to 81OVR |
| Andrew Luck | QB | IND | Decrease, from 85 to 84OVR |
| Dwight Freeney | LB | IND | Decrease, from 90 to 89OVR |
| Jerry Hughes | LB | IND | Increase, from 66 to 68OVR |
| Anthony Castonzo | OL | IND | Increase, from 75 to 77OVR |
| Winston Justice | OL | IND | Increase, from 79 to 80OVR |
| Robert Mathis | LB | IND | Lowered on depth chart (injury) |
| Jerry Hughes | LB | IND | Moved to LOLB #1 on depth chart |
| Tim Fugger | LB | IND | Released |
| Chandler Harnish | QB | IND | Released |
| Lawrence Guy | DL | IND | Signs |
| Weslye Saunders | TE | IND | Signs |
| Terrance Knighton | DL | JAX | Decrease, from 84 to 82OVR |
| C.J. Mosley | DL | JAX | Increase, from 73 to 74OVR |
| Dwight Lowery | S | JAX | Lowered on depth chart (injury) |
| Chris Prosinski | S | JAX | Moved to FS #1 on depth chart |
| Austen Lane | DL | JAX | Moved to RE #1 on depth chart |
| Andre Branch | DL | JAX | Moved to RE #2 on depth chart |
| Kevin Rutland | CB | JAX | Released |
| Chris Harris | S | JAX | Signs |
| Brady Quinn | QB | KC | Decrease, from 72 to 71OVR |
| Allen Bailey | DL | KC | Decrease, from 72 to 71OVR |
| Ropati Pitoitua | DL | KC | Decrease, from 73 to 72OVR |
| Jovan Belcher | LB | KC | Decrease, from 78 to 77OVR |
| Kendrick Lewis | S | KC | Decrease, from 81 to 80OVR |
| Stanford Routt | CB | KC | Decrease, from 83 to 82OVR |
| Brandon Flowers | CB | KC | Decrease, from 93 to 92OVR |
| Steve Maneri | TE | KC | Increase, from 62 to 66OVR |
| Ryan Lilja | OL | KC | Moved to C #1 on depth chart |
| Jeff Allen | OL | KC | Moved to LG #1 on depth chart |
| Richie Incognito | OL | MIA | Decrease, from 76 to 75OVR |
| Jared Odrick | DL | MIA | Decrease, from 79 to 78OVR |
| Brian Hartline | WR | MIA | Decrease, from 82 to 81OVR |
| Reggie Bush | HB | MIA | Decrease, from 86 to 85OVR |
| Marlon Moore | WR | MIA | Increase, from 64 to 66OVR |
| Olivier Vernon | DL | MIA | Increase, from 67 to 69OVR |
| Ryan Tannehill | QB | MIA | Increase, from 77 to 78OVR |
| Davone Bess | WR | MIA | Increase, from 77 to 78OVR |
| Kevin Burnett | LB | MIA | Increase, from 82 to 83OVR |
| Mike Pouncey | OL | MIA | Increase, from 84 to 85OVR |
| Brandon Fields | P | MIA | Increase, from 89 to 90OVR |
| Julian Posey | CB | MIA | Signs |
| Christian Ponder | QB | MIN | Decrease, from 64 to 62CARRY |
| Jasper Brinkley | LB | MIN | Decrease, from 73 to 72OVR |
| Harrison Smith | S | MIN | Decrease, from 76 to 75OVR |
| Blair Walsh | K | MIN | Increase, from 72 to 74OVR |
| Michael Jenkins | WR | MIN | Increase, from 77 to 78OVR |
| Charlie Johnson | OL | MIN | Increase, from 79 to 80OVR |
| Matt Kalil | OL | MIN | Increase, from 82 to 83OVR |
| Kyle Rudolph | TE | MIN | Increase, from 83 to 84OVR |
| Percy Harvin | WR | MIN | Increase, from 89 to 91OVR |
| Antoine Winfield | CB | MIN | Increase, from 91 to 92OVR |
| Donald Thomas | OL | NE | Decrease, from 75 to 74OVR |
| Kyle Arrington | CB | NE | Decrease, from 78 to 76OVR |
| Brandon Deaderick | DL | NE | Decrease, from 78 to 76OVR |
| Kyle Love | DL | NE | Decrease, from 78 to 77OVR |
| Stevan Ridley | HB | NE | Decrease, from 82 to 81OVR |
| Nate Solder | OL | NE | Decrease, from 82 to 81OVR |
| Patrick Chung | S | NE | Decrease, from 85 to 83OVR |
| Vince Wilfork | DL | NE | Decrease, from 95 to 94OVR |
| Ryan Wendell | OL | NE | Increase, from 74 to 76OVR |
| Chandler Jones | DL | NE | Increase, from 79 to 80OVR |
| Sebastian Vollmer | OL | NE | Increase, from 85 to 86OVR |
| Devin McCourty | CB | NE | Increase, from 85 to 86OVR |
| Sean Locklear | OL | NYG | Decrease, from 75 to 73OVR |
| Hakeem Nicks | WR | NYG | Decrease, from 93 to 92OVR |
| Adrian Tracy | DL | NYG | Increase, from 67 to 68OVR |
| Domenik Hixon | WR | NYG | Increase, from 75 to 76OVR |
| David Baas | OL | NYG | Increase, from 77 to 78OVR |
| Henry Hynoski | FB | NYG | Increase, from 78 to 80OVR |
| Antrel Rolle | S | NYG | Increase, from 81 to 83OVR |
| Linval Joseph | DL | NYG | Increase, from 83 to 84OVR |
| Ahmad Bradshaw | HB | NYG | Increase, from 89 to 90OVR |
| Calvin Pace | LB | NYJ | Decrease, from 83 to 82OVR |
| Dustin Keller | TE | NYJ | Decrease, from 85 to 84OVR |
| Stephen Hill | WR | NYJ | Increase, from 71 to 72OVR |
| Matt Slauson | OL | NYJ | Increase, from 74 to 75OVR |
| Kyle Wilson | CB | NYJ | Increase, from 76 to 78OVR |
| Shonn Greene | HB | NYJ | Increase, from 76 to 80OVR |
| Mike Devito | DL | NYJ | Increase, from 78 to 79OVR |
| LaRon Landry | S | NYJ | Increase, from 82 to 83OVR |
| Muhammad Wilkerson | DL | NYJ | Increase, from 84 to 86OVR |
| Antonio Cromartie | CB | NYJ | Increase, from 88 to 89OVR |
| Nick Mangold | OL | NYJ | Increase, from 95 to 96OVR |
| Kenrick Ellis | DL | NYJ | Lowered on depth chart (injury) |
| Bilal Powell | HB | NYJ | Lowered on depth chart (injury) |
| Marcus Dixon | DL | NYJ | Released |
| Daniel Muir | DL | NYJ | Signs |
| Alex Parsons | OL | OAK | Decrease, from 67 to 65OVR |
| Darrius Heyward-Bey | WR | OAK | Decrease, from 82 to 81OVR |
| Andre Carter | DL | OAK | Decrease, from 85 to 83OVR |
| Rolando McClain | LB | OAK | Decrease, from 86 to 83OVR |
| Jared Veldheer | OL | OAK | Decrease, from 89 to 88OVR |
| Tyvon Branch | S | OAK | Decrease, from 89 to 88OVR |
| Darren McFadden | HB | OAK | Decrease, from 90 to 89OVR |
| Pat Lee | CB | OAK | Increase, from 69 to 71OVR |
| Joselio Hanson | CB | OAK | Increase, from 73 to 74OVR |
| Derek Hagan | WR | OAK | Increase, from 73 to 75OVR |
| Mike Goodson | HB | OAK | Increase, from 74 to 75OVR |
| Cooper Carlisle | OL | OAK | Increase, from 77 to 78OVR |
| Matt Shaughnessy | DL | OAK | Increase, from 78 to 79OVR |
| Denarius Moore | WR | OAK | Increase, from 81 to 82OVR |
| Michael Huff | S | OAK | Increase, from 82 to 83OVR |
| Mike Brisiel | OL | OAK | Decrease, from 84 to 83OVR |
| Lamarr Houston | DL | OAK | Increase, from 84 to 85OVR |
| Mickey Shuler | TE | OAK | Signs |
| Colt Anderson | S | PHI | Decrease, from 68 to 67OVR |
| Dion Lewis | HB | PHI | Decrease, from 70 to 69OVR |
| Danny Watkins | OL | PHI | Decrease, from 75 to 74OVR |
| Demetress Bell | OL | PHI | Decrease, from 77 to 75OVR |
| Nate Allen | S | PHI | Decrease, from 77 to 76OVR |
| Brent Celek | TE | PHI | Decrease, from 88 to 87OVR |
| Cullen Jenkins | DL | PHI | Decrease, from 89 to 88OVR |
| Jason Babin | DL | PHI | Decrease, from 92 to 91OVR |
| LeSean McCoy | HB | PHI | Decrease, from 95 to 94OVR |
| Brandon Boykin | CB | PHI | Increase, from 69 to 70OVR |
| Jeremy Maclin | WR | PHI | Increase, from 86 to 87OVR |
| DeMeco Ryans | LB | PHI | Increase, from 87 to 88OVR |
| Todd Herremans | OL | PHI | Increase, from 88 to 89OVR |
| Nnamdi Asomugha | CB | PHI | Increase, from 91 to 92OVR |
| Evan Mathis | OL | PHI | Increase, from 92 to 93OVR |
| Ziggy Hood | DL | PIT | Decrease, from 75 to 73OVR |
| Max Starks | OL | PIT | Decrease, from 77 to 75OVR |
| Ramon Foster | OL | PIT | Decrease, from 80 to 78OVR |
| Brett Keisel | DL | PIT | Decrease, from 85 to 84OVR |
| Casey Hampton | DL | PIT | Decrease, from 86 to 85OVR |
| Ike Taylor | CB | PIT | Decrease, from 88 to 87OVR |
| James Harrison | LB | PIT | Decrease, from 93 to 92OVR |
| Cortez Allen | CB | PIT | Increase, from 65 to 68OVR |
| Will Allen | S | PIT | Increase, from 69 to 70OVR |
| Isaac Redman | HB | PIT | Increase, from 74 to 76OVR |
| Willie Colon | OL | PIT | Increase, from 79 to 80OVR |
| Maurkice Pouncey | OL | PIT | Lowered on depth chart (injury) |
| Doug Legursky | OL | PIT | Moved to C #1 on depth chart |
| Alameda Ta'amu | Dl | PIT | Removed from depth chart (suspension) |
| Corbin Bryant | DL | PIT | Signs |
| Kendall Reyes | DL | SD | Decrease, from 71 to 70OVR |
| Shaun Phillips | LB | SD | Decrease, from 89 to 88OVR |
| Philip Rivers | QB | SD | Decrease, from 90 to 89OVR |
| Kevin Haslam | OL | SD | Signs |
| Zach Miller | TE | SEA | Decrease, from 74 to 71CARRY |
| Red Bryant | DL | SEA | Decrease, from 83 to 82OVR |
| Jason Jones | DL | SEA | Decrease, from 83 to 82OVR |
| Kam Chancellor | S | SEA | Decrease, from 90 to 89OVR |
| Breno Giacomini | OL | SEA | Increase, from 71 to 72OVR |
| James Carpenter | OL | SEA | Increase, from 71 to 74OVR |
| Bobby Wagner | LB | SEA | Increase, from 75 to 76OVR |
| Russell Wilson | QB | SEA | Increase, from 78 to 80OVR |
| Russell Okung | OL | SEA | Increase, from 81 to 83OVR |
| Richard Sherman | CB | SEA | Increase, from 87 to 88OVR |
| Earl Thomas | S | SEA | Increase, from 91 to 92OVR |
| James Carpenter | OL | SEA | Moved to LG #1 on depth chart |
| Paul McQuistan | OL | SEA | Moved to RG #1 on depth chart |
| Mike Person | OL | SEA | Signs |
| Leonard Davis | OL | SF | Decrease, from 76 to 75OVR |
| Anthony Davis | OL | SF | Decrease, from 81 to 80OVR |
| Jonathan Goodwin | OL | SF | Decrease, from 83 to 81OVR |
| Isaac Sopoaga | DL | SF | Decrease, from 85 to 84OVR |
| Alex Smith | QB | SF | Decrease, from 88 to 87OVR |
| Aldon Smith | LB | SF | Decrease, from 90 to 89OVR |
| David Akers | K | SF | Decrease, from 91 to 90OVR |
| Vernon Davis | TE | SF | Decrease, from 96 to 95OVR |
| Kyle Williams | WR | SF | Increase, from 71 to 72OVR |
| Ricardo Lockette | WR | SF | Signs |
| Wayne Hunter | OL | STL | Decrease, from 67 to 65OVR |
| Kellen Heard | DL | STL | Decrease, from 67 to 66OVR |
| Brian Quick | WR | STL | Decrease, from 70 to 69OVR |
| Quinn Ojinnaka | OL | STL | Decrease, from 73 to 71OVR |
| Greg Zeurlein | K | STL | Decrease, from 77 to 75OVR |
| Janoris Jenkins | CB | STL | Decrease, from 79 to 78OVR |
| Steven Jackson | HB | STL | Decrease, from 91 to 90OVR |
| Jermelle Cudjo | DL | STL | Increase, from 65 to 67OVR |
| Robert Turner | OL | STL | Increase, from 68 to 70OVR |
| Chris Givens | WR | STL | Increase, from 69 to 70OVR |
| Daryl Richardson | HB | STL | Increase, from 69 to 71OVR |
| Barry Richardson | OL | STL | Increase, from 74 to 76OVR |
| Brit Miller | FB | STL | Increase, from 74 to 76OVR |
| Jo-Lonn Dunbar | LB | STL | Increase, from 75 to 76OVR |
| Brandon Gibson | WR | STL | Increase, from 77 to 78OVR |
| Quinton Mikell | S | STL | Increase, from 80 to 81OVR |
| Kendall Langford | DL | STL | Increase, from 85 to 86OVR |
| Cortland Finnegan | CB | STL | Increase, from 94 to 95OVR |
| Michael Bennett | DL | TB | Decrease, from 82 to 81OVR |
| Tiquan Underwood | WR | TB | Increase, from 63 to 64OVR |
| Gary Gibson | DL | TB | Increase, from 72 to 73OVR |
| Eric Wright | CB | TB | Increase, from 79 to 80OVR |
| Mike Williams | WR | TB | Increase, from 79 to 81OVR |
| Mark Barron | S | TB | Increase, from 80 to 81OVR |
| Josh Freeman | QB | TB | Increase, from 81 to 82OVR |
| Ronde Barber | S | TB | Increase, from 85 to 86OVR |
| Donald Penn | OL | TB | Increase, from 87 to 88OVR |
| Vincent Jackson | WR | TB | Increase, from 90 to 91OVR |
| Carl Nicks | OL | TB | Increase, from 96 to 97OVR |
| Eric Wright | CB | TB | Moved to CB #1 on depth chart |
| E.J. Biggers | CB | TB | Moved to CB #2 on depth chart |
| Aqib Talib | CB | TB | Removed from depth chart (suspension) |
| Akeem Ayers | LB | TEN | Decrease, from 80 to 79OVR |
| Brett Kern | P | TEN | Increase, from 68 to 72OVR |
| Mike Martin | DL | TEN | Increase, from 69 to 70OVR |
| Fernando Velasco | OL | TEN | Increase, from 71 to 73OVR |
| Matt Hasselbeck | QB | TEN | Increase, from 80 to 81OVR |
| Jason McCourty | CB | TEN | Increase, from 84 to 85OVR |
| Kamerion Wimbley | DL | TEN | Increase, from 86 to 87OVR |
| Rob Bironas | K | TEN | Increase, from 94 to 96OVR |
| Brandon Banks | WR | WAS | Decrease, from 65 to 64OVR |
| Dezmon Briscoe | WR | WAS | Decrease, from 70 to 69OVR |
| DeAngelo Hall | CB | WAS | Decrease, from 86 to 85OVR |
| Kai Forbath | K | WAS | Increase, from 58 to 61OVR |
| Lorenzo Alexander | LB | WAS | Increase, from 74 to 75OVR |
| Madieu Williams | S | WAS | Increase, from 76 to 78OVR |
| Perry Riley | LB | WAS | Increase, from 80 to 81OVR |
| Will Montgomery | OL | WAS | Increase, from 81 to 82OVR |
| Robert Griffin III | QB | WAS | Increase, from 85 to 86OVR |
| London Fletcher | LB | WAS | Increase, from 91 to 92OVR |