Baltimore has been known for its defense over the last decade. Winning a Super Bowl with Trent Dilfer as your starting quarterback says a whole lot. Over the years they have really built thier team through great draft picks. They are known for more than just defense these days.
Joe Flacco has more than met his expectations at the quarterback position. University of Delaware? He makes all the throws and has incredible arm strength. They have one of the best 1-2 punches in Ray Rice and Willis McGahee at running back. Le'Ron McClain is the TKO that can also be used in the running game. At 36 years old, Derrick Mason is still doing his thing. He is overlooked as a top notch receiver but he is easily one of the best at creating space. The Baltimore playbook is absolutely loaded. It is built for the power running game but also has some unique formations out of shotgun like Raven Trips. This is another team that you should use the run game to set up the pass.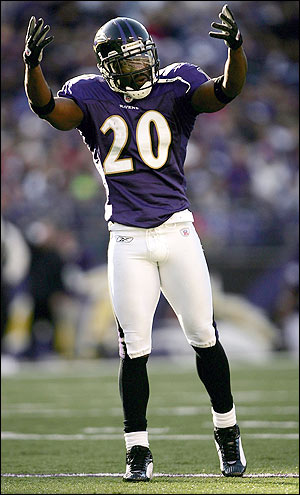 If you have ever played against the Ravens you know what they bring to the table on defense. They have two of the biggest defensive playmakers in the game. Ray Lewis has that always useful 99 awareness rating that makes running or passing the ball very difficult. Ed Reed literally cuts the field in half and can be counted for six points everytime he gets his hands on the ball. I like moving Haloti Ngata to DT and putting Terrell Suggs at DE. Lardarius Webb was a great draft pick and is a nice 2nd or 3rd string CB. Rex Ryan or not, Baltimore still has a nice defensive playbook with great formations like 46 and Nickel Odd Split.
Offensive Hot Play
I-Form Pro Twins
Wheel Out
Hot route the TE to a drag route. I usually max protect by blocking my FB to the right and the RB to the left (optional). Your first read is your inside reciever on the fade. If for some reason thats not wide open look to the outside reciever crossing the deep middle. You also have your TE if all else fails. This play is automatic. Try this after you mix in a few run plays.
Defensive Hot Play
Nicel Odd Split
Cover 2 (Nano/Zone Blitz)
Spread your D line out. Re-blitz both DT's. Move both LB's to the inside of the DT's and re-blitz. User control Ed Reed. You get instant pressure and have the flats covered.
Written by Madden-School Staff Writer layinWOOD