The Falcons have an immaculate offense in Madden 10. You can play smashmouth offense with Michael Turner . He is easily the best back to truck with, with maybe the exception of Adrian Peterson and Brandon Jacobs. Their offensive line is solid across the board and Ovie Mughelli is an excellent lead blocker. Matt Ryan has an elite reciever in Roddy White and some guy named Tony Gonzalez that is an all around baller.
The best way to play with this team on offense is running the rock and mixing in play-action. Make sure you get Jerious Norwood some carries too, we all know speed kills in Madden 10. Their playbook is full of great run plays and play-action. You can choose from Singleback, I-Form, Full House (a must with this backfield), Strong, Weak and Dirty Bird Formations. They even have great running plays out of Shotgun.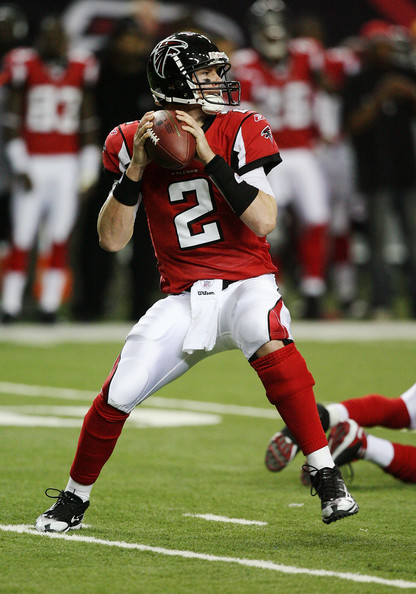 The defensive side of the ball is why you don't see many people running with the Falcons online. Though not great, still workable. Curtis Loftons rating soared upward with every roster update. John Abraham can cause havoc off the edge but has little help on the defensive line. They do have mediocre safeties who can make plays. Corner back is the big issue with the Falcons. You really have to move around their depth chart which is loaded with less than great talent at the corner position. They have some speed but are mostly horrible in coverage. I would still put the Falcons as a top tier team, even though their defense is lacking.
Offensive Hot Play
Singleback Y-Trips
HB Toss Strong
You can't go wrong with this play. I always flip the play so I can run to the left side of the field. Pinch your offensive line in. Motion your slot reciever and as soon as he starts moving hike the ball.(this really helps to set the edge) It's a great play to run on 2nd and long.
Defensive Hot Play
4-3 Normal
FS Zone Blitz
This is one of my favorite zone blitzes. Reblitz your RE and ROLB. User your FS. If its a run, make the tackle with your FS. If its a pass, roam the field for a easy pick due to the pressure you get from the reblitz. I like to run this on 1st/2nd down.