Anyone who likes passing the ball should play with this team while you can. With the departure of Kurt Warner and Anquan Boldin, we might not be seeing too many people playing with the Cardinals in Madden 11. I will run you through team strengths and weaknesses along with a hot play out of both the Arizona offensive and defensive playbooks.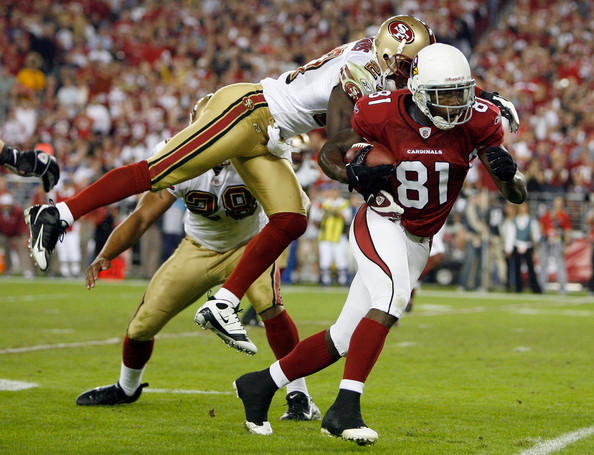 Their biggest strength that stands out is at the wide reciever position. You've got Larry Fitgerald lined up opposite end of Anquan Boldin and a great slot receiver in Steve Breaston. With Kurt Warner's accuracy and two bruisers at running back, this offense is lethal. Let's not forget about their defense which is not too shabby itself. They have huge playmakers like Adrian Wilson, DRC, Karlos Dansby and Darnell Dockett.
Though very accurate, Kurt Warner isnt very mobile and is known for coughing up the ball. Hence, one of the easiest achievements in the game is making him fumble. It doesn't help that their offensive line is far from great. Depth is obviously lacking at most defensive positions other than safety. They are also very slow at linebacker with the exception of Dansby.
Offensive Hot Play
Guns Double Wk
Corner Strike
Motion your WR2(Boldin) to the opposite side of the field. I advise you to leave an extra blocker, either the TE or RB to hold off the blitz. Look for Fitzgerald or Boldin to be wide open. This play will work well against man or zone coverage and is great for 3rd and long.
Defensive Hot Play
Quarter
CB Dogs Zone
Press your defense. Put both corners in buzz zones(purple). I would user control someone in the middle of the field. Either a safety or linebacker. This play is great when someone is trying out the deep ball on you. Just watch for the QB scramble.
32 Teams in 32 Days Series Written by Madden-School Staff Writer layinWOOD