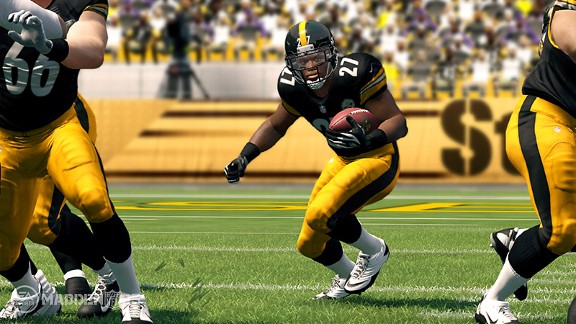 The Pittsburgh Steelers are in a tough position heading into Madden 25.  They lost huge playmakers on both sides of the ball: WR Mike Wallace and OLB James Harrison.  We have their full team breakdown below.
Team: Pittsburgh Steelers
Offensive Strategy: Pass Heavy.  I know this isn't what Steelers fans want to hear but if you are serious about competing with the Steelers in Madden 25 you will have to adjust.  Le'Veon Bell won't come into the game with very good ratings initially.  That means you will have to rely on Benjamin Todd Roethlisberger Sr. to lead you in Madden.
Defensive Strategy: 3-4 Blitz, Blitz, and More Blitz.  It just wouldn't feel right to use the Steelers and run some basic vanilla defense.  James Harrison was essentially replaced by Jarvis Jones and the Steelers defense will be completely healthy going into the Madden 25 release.
Impact Players: QB Ben Roethlisberger, WR Emmanuel Sanders, TE Heath Miller, OLB Lamar Woodley, MLB Lawrence Timmons, SS Troy Polamalu
Key Newcomers: OLB Jarvis Jones, HB Le'veon Bell
Biggest Strength: Incredibly talented defense.  Led by linebackers Lawrence Timmons and Lamar Woodley, the Steelers defense is as potent as ever even with losing James Harrison to the Bengals in the offseason.  The defensive line is getting a little old but are still solid while you can user control the secondary with Troy Polamalu.
Biggest Weakness: Running game.  Le'veon Bell looks like the real deal.  Unfortuantely when it comes to Madden ratings halfbacks not drafted in the first round rarely get any sort of love.  Get used to throwing the ball around the field while you wait for the roster updates to help you out at running back.
Rating: Slight Above Average.  The Steelers of Madden 25 are essentially the same team as they were in Madden 13 except for the loss of wide receiver Mike Wallace but they are still a top 15 team in Madden NFL 25.
Let us know your thoughts on this year's virtual Steelers team in the comments section.