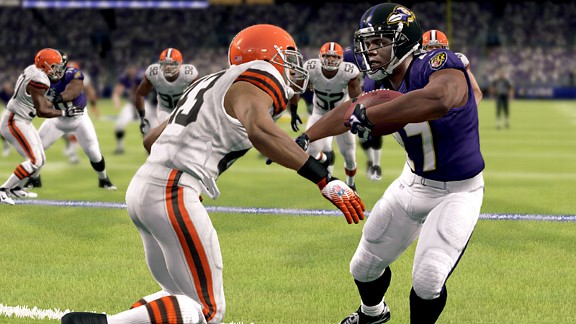 Along with the Jacksonville Jaguars, the Cleveland Browns have been a consistent find in the bottom tier of Madden teams and unfortunately Madden 25 will be no different.  We have the full team breakdown below.
Team: Cleveland Browns
Offensive Strategy: Power run.  Trent Richardson is easily a top 5 Madden 25 running back with his unreal combination of speed and strength.  Brandon Weeden isn't all that good to begin with but is even worse in Madden making talented receivers Josh Gordon and Greg Little fairly useless.
Defensive Strategy: 3-4 Base. The Browns defense really isn't all that bad in terms of Madden.  They have one of the top young DT duos in Ahtyba Rubin and Phil Taylor who pretty much shut down any sort of up the middle run.  Jabaal Sheard, Paul Kruger, and rookie Barkevious Mingo are all highly skilled pass rushers as well.  Add in T.J. Ward and Joe Haden is the secondary and that makes a solid young Madden defense.
Impact Players: HB Trent Richardson, WR Josh Gordon, DE Barkevious Mingo, CB Joe Haden
Key Newcomers: DE Barkevious Mingo, DE Paul Kruger
Biggest Strength: Running game and defense. Running back Trent Richardson is a poor man's Adrian Peterson in Madden games.  The young defense is 1 or 2 players away from being extremely scary (on the level of the 49ers or Seahawks) in Madden 25.
Biggest Weakness: Quarterback.  The Browns would have an above average Madden team if you gave them an above average quarterback like Big Ben or Matt Schuab.  Unfortunately they are stuck with Brandon Weeden and that doesn't bode well for a position that has always been the most important in the game.
Rating: Bad. The addition of a few pass rushers in the offseason saved the Browns from receiving the dreaded "terribe rating" in Madden 25.  Should the Cleveland Browns start slow in September, they could fall back into that category after a few roster updates.
Browns fans, if we missed something feel free to let us know in the comments section.