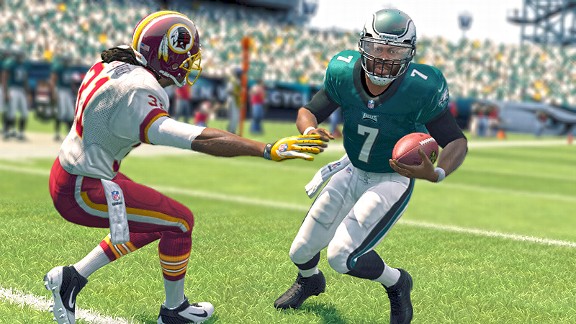 The Eagles will have one of the best playbooks in Madden 25 but will only have a slightly above average Madden 25 team.  We have the full analysis below.
Team: Philadelphia Eagles
Offensive Strategy: Speed.  The Eagles are absolutely loaded with speed in Madden 25.  They will have one of the fastest quarterbacks in Michael Vick, 2 of the quickest running backs in LeSean McCoy and Felix Jones, and 2 of the fastest receivers in Jeremy Maclin and DeSean Jackson.
Defensive Strategy: Hope for the best.  This team leaves a lot to be wanted on defense.  Their strength over the last few years have been their stud cornerbacks which they no longer have.  You will need to be pretty crafty on defense in order to get consistent stops.
Impact Players: QB Michael Vick, HB LeSean McCoy, WR Jeremy Maclin, WR DeSean Jackson, DT Fletcher Cox, DE Trent Cole, LB Mychael Kendricks, CB Cary Williams, SS Kenny Phillips
Key Newcomers: HB Felix Jones, TE Zach Ertz, DT Isaac Sopoaga, SS Kenny Phillips
Biggest Strength: Offensive Speed.  This team has so much speed on offense it is downright scary.  If you use that effectively, the Eagles offense will be extremely hard to stop.
Biggest Weakness: Most of the defense.  The Eagles defense has a few playmakers but a lot of glaring holes.  Linebacker and secondary are especially weak for this team.
Rating: Above Average.  The Eagles offense is a top 10 Madden 25 offense and their defense is a bottom 10 Madden 25 defense.  When you weight those factors, they come out as slightly above average.