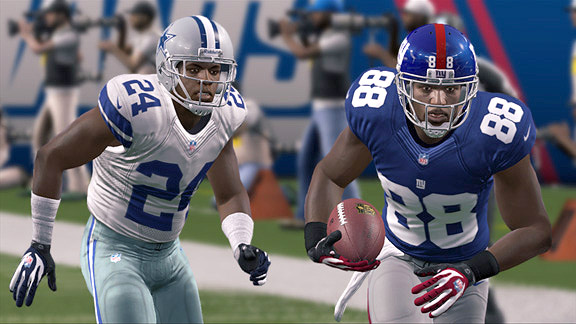 The Giants may not be as good as in previous years, but they will still have a good team in Madden 25.  Continue reading for the New York Giants full team breakdown.
Team: New York Giants
Offensive Strategy: Pass Heavy. The New York Giants have an elite quarterback in Eli Manning and 2 playmaking wide receiver in Hakeem Nicks and Victor Cruz.  David Wilson is a viable running back who has top level speed when you want to mix in a run play or screen pass.
Defensive Strategy: Get After The Quarterback.  The Giants have one of the top 3 pass rushes in Madden 25.  Jason Pierre-Paul and Justin Tuck form the most feared defensive end combination in Madden 25.  Use them to create pressure on the quarterback.
Impact Players: QB Eli Manning, HB David Wilson, WR Hakeem Nicks, WR Victor Cruz, DE Jason Pierre-Paul, DE Justin Tuck, CB Corey Webster, CB Prince Amukamara
Key Newcomers: DT Cullen Jenkins, DE Demontre Moore
Biggest Strength: Playmakers On Offense.  Eli Manning, Hakeem Nicks, Victor Cruz, and David Wilson form an extremely formidable offense.  It will be hard for the opposing defense to stop them all.
Biggest Weakness: Back 7 On Defense. While the Giants back 7 isn't all that bad in the NFL, they are below average in Madden 25.  You will have to create pressure with your front 4 if you want to avoid getting picked apart on defense.
Rating: Good.  The Giants will be a good but not great team in Madden 25.