One of the biggest problems in football video games over the last year or 2 has been the over effectiveness of the quarterback run part of the read option.  This was seen in NCAA 14 as well as Madden 13.  It will no longer be a problem in Madden 25.
As you can see from the image below, you now have the ability to instruct your defense on whether to key on the quarterback or the running back should the offense call an option play.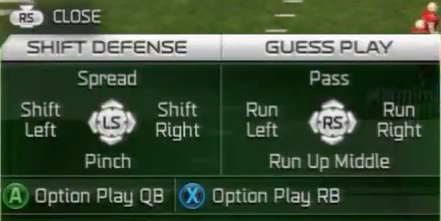 The bottom of the screenshot shows the controls for XBOX 360.  You select A to commit to the quarterback and X to commit to the running back.  On the PlayStation 3, You would select X to commit to the qb and square to commit to the rb.
The read option should work as designed in Madden 25.  It will still be hard to stop, but the days of just blindly running with the quarterback are over.
Are you happy about this small yet much needed change?  Let us know your thoughts in the comments section or join our Madden 25 community.