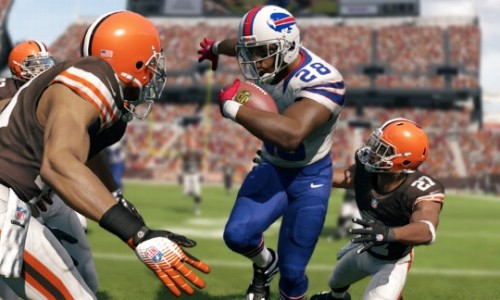 The Buffalo Bills have traditionally been lower tier Madden team.  They have made some strides into the middle group of teams that aren't necessarily bad but aren't yet considered a great team in Madden 25.  We have the full analysis below.
Team: Buffalo Bills
Offensive Strategy: Read Option/Vertical Game.  By adding a quarterback to their Madden 25 team, the Bills took a giant step forward.  We don't yet know how good E.J. Manuel will be but first round rookie quarterbacks usually get the benefit of the doubt in ratings.  C.J. Spiller and Fred Jackson are both dangerous running backs and the wide receivers are solid.
Defensive Strategy: Get After The Quarterback.  Mario Williams is an absolute beast in Madden.  Combine that with Manny Lawson and his size/speed combination and you have 2 of those most feared pass rushers in the game.  The rest of the defense is solid but not spectacular.
Impact Players: QB E.J. Manuel, HB C.J. Spiller, HB Fred Jackson, WR Stevie Johnson, DT Marcell Dareus, LB Manny Lawson, CB Stephon Gilmore, S Jarius Bird
Key Newcomers: QB E.J. Manuel, WR Robert Woods, WR Da'Rick Rodgers, WR Marquise Goodwin, LB Manny Lawson
Biggest Strength: Playmakers.  The Bills are loaded with established playmakers on offense like C.J. Spiller and Stevie Johnson.  They also added some potential playmakers on offense in their rookie QB and receivers.  On defense, Mario Williams is a big time playmaker.
Biggest Weakness: Linebackers.  There really isn't any linebacker on the Bills roster that jumps out as an impact linebacker when it comes to Madden 25.
Rating: Average. Traditionally, this team would be rated poorly.  This "average" rating comes with the disclaimer that it could easily go up to "Good" a few weeks into the NFL season.