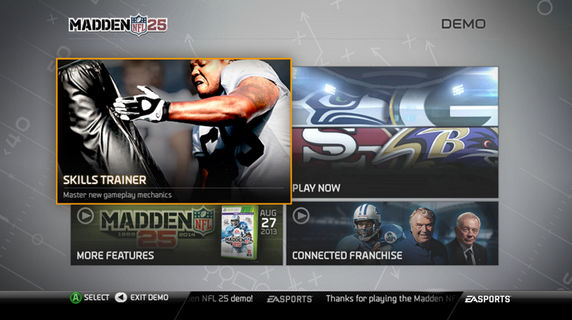 The Madden 25 demo will be released on XBOX 360 and PlayStation 3 on Tuesday August 13th, 2013.  That is 2 weeks before the official release date of Madden NFL 25.
There will be 2 playable matchups featured in the demo.  The first is a rematch of the Super Bowl with the San Francisco 49ers taking on the Baltimore Ravens.  The second is the Seattle Seahawks vs. the Green Bay Packers in a rematch of last year's infamous replacement refs game that the Seahawks won on a controversial call.
You will also be able to try out 4 drills including Precision Modified Running, Total Control Passing, The Option, and Ball Hawk.
You'll also get a sneak peak at the new owner mode via an exclusive trailer found in the demo.
Which team are you most excited to try out in the Madden 25 demo?  Let us know your thoughts in the comments section below.