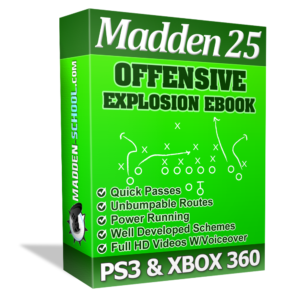 The Madden-School.com Offensive Explosion eBook for Madden 25 is now available.  There are over 30 plays and 9 formations broken down out of the Atlanta Falcons playbook.  There are man beaters, zone beaters, effective running plays, and some great route combinations.  Each play comes with full written breakdowns and HD videos.
It works great with any team even if you don't have a scrambling quarterback.
Here is a play found in the Atlanta Falcons playbook that you can use whether or not you decide to purchase the ebook.
Playbook: Atlanta Falcons
Formation: Singleback Tight Doubles
Play: PA WR Cross
Madden 25 Offensive Explosion eBook Sample Play

Setup
:
None Required
(Optional) Motion the tight end to the left into the backfield
Reads:
Pretty much all of your receivers will be open against any man to man coverage
Overview: This play is on of the ultimate man defense beaters in Madden 25.  Keep calling the play until your opponent switches to zone defense.
Here are the formations covered in the Offensive Explosion eBook:
Singleback Bunch
I-Form Tight Pair
Strong Close
Full House Normal Wide
Shotgun Doubles On
Shotgun Wing Trips
Shotgun Trio Falcon
Shotgun Tight Flex
Shotgun Bunch WK
Buy your eBook today for only $24.99 and receive instant access.

Only $24.99! Instant Access!