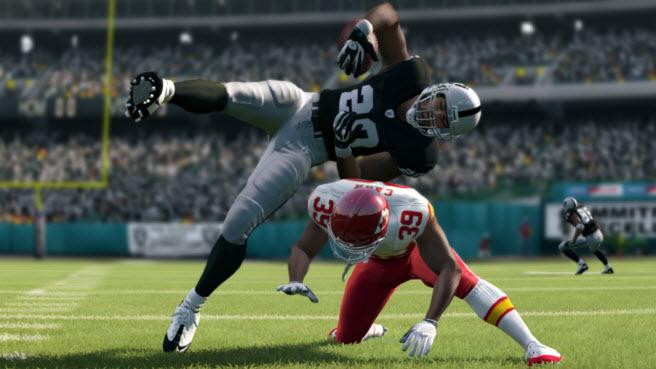 Over the last 5 years or so, the Oakland Raiders have been one of those teams that were pretty terrible in the NFL but very dangerous in Madden games.  This year, they should be better on Sundays but slightly worse in Madden 25.  We have the full breakdown below.
Team: Oakland Raiders
Offensive Strategy: Run Heavy.  The Raiders have 3 of those most dangerous running threats in Madden 25: QB Terrelle Pryor, HB Darren McFadden, and FB Marcel Reece.  All 3 of these guys create huge mismatch problems for opposing defenses.  When you factor in the speed at wide receiver, this Raiders team has a solid offense.
Defensive Strategy: Force Turnovers.  This team still has speed on defense but not like before.  Your best bet is to try to force a turnover or 2 per game and turn the rest over to your offense.
Impact Players: QB Terrelle Pryor, HB Darren McFadden, FB Marcel Reece, WR Jacoby Ford, CB D.J. Hayden, S Charles Woodson, S Tyvon Branch, K Sebastian Janikowski
Key Newcomers: QB Matt Flynn, CB D.J. Hayden, S Charles Woodson, WR Josh Cribbs, CB Mike Jenkins
Biggest Strength: Speed.  The Raiders have such a fast team.  If speed is as important as in past Madden games, that will make the Raiders a contender.
Biggest Weakness: Front 7.  The Raiders don't have as much talent in their front 7 as they've had before.  Luckily, the secondary is still solid and should be able to make up for it.
Rating: Average.  The Raiders are simply an average Madden 25 team.  If used correctly, they could be very good but the average Madden gamers may not have the patience and skillset to use them that way.