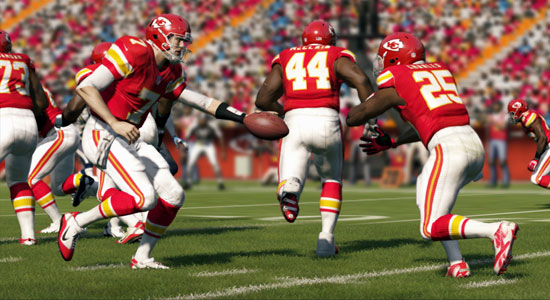 The Chiefs had the #1 overall pick in the NFL draft last year which pretty much means they were terrible.  However, when it comes to Madden 25, they aren't that bad of a team.  Dive into our Chiefs team analysis below.
Team: Kansas City Chiefs
Offensive Strategy: Give Jamaal Charles The Ball.  Jamaal Charles is an incredibly dangerous running back in Madden 25.  If you get him the ball in open space, any play can turn into a touchdown. Alex Smith is a huge upgrade at quarterback and the Chiefs have a few decent receiving threats as well.
Defensive Strategy: Let your secondary do the work.  The Chiefs have a secondary that is pretty scary.  They have cornerbacks Sean Smith, Brandon Flowers, and Dunta Robinson as well as awesome Madden safety Eric Berry.  Tamba Hali and Derrick Johnson can get after the quarterback which should allow this team to get plenty of interceptions and sacks.
Impact Players: QB Alex Smith, HB Jamaal Charles, WR Dwayne Bowe, WR Dexter McCluster, TE Tony Moeaki, CB Sean Smith, CB Dunta Robinson, CB Brandom Flower, LB Tamba Hali, LB Derrick Johnson, S Eric Berry
Key Newcomers: QB Alex Smith, CB Dunta Robinson, CB Sean Smith
Biggest Strength: Playmakers on defense.  The Cheifs have 6 impact players on defense.  They should be all over the field causing trouble for your opponent's offense.
Biggest Weakness: Passing game.  Alex Smith is a decent Madden quarterback but not special and the receivers on the Chiefs are the same way.  Luckily, the Chiefs have Jamaal Charles to take a lot of that pressure away.
Rating: Above Average. It may be surprising to some people to have the worst team in the NFL last year rated as good, but the Chiefs are a different team this year and should be treated as such.