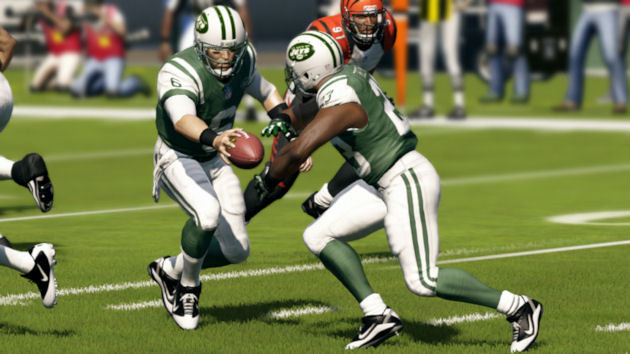 The Jets will be an interesting team in Madden 25.  They lost a few key players in the offseason but adding in Geno Smith at quarterback is a huge upgrade from Mark Sanchez in terms of Madden.  We have the full team breakdown below.
Team: New York Jets
Offensive Strategy: Find a way to move the ball.  The passing game shouldn't be all that bad.  Geno Smith will be mobile and have solid passing ratings.  The receivers are solid in Madden 25 with Stephen Hill, Braylon Edwards, and Santonio Holmes.
Defensive Strategy: Force Turnovers.  The loss of Darrelle Revis and Laron Landry will hurt significantly.  Dee Millner and Antonio Cromartie form a solid cornerback duo.  The rest of the Jets defense is below average so you will have to find a way to force turnovers.
Impact Players: QB Geno Smith, WR Santonio Holmes, WR Braylon Edwards, WR Stephen Hill, DE Quinton Coples, CB Josh Wilson, CB Dee Millner, CB Antonio Cromartie
Key Newcomers: QB Geno Smith, RB Chris Ivory, LB Antwan Barnes, DT Sheldon Richardson, CB Dee Millner
Biggest Strength: Secondary.  While not as strong as last year, the Jets still have a solid secondary.  It will be difficult to pass against them in Madden 25.
Biggest Weakness: The rest of the defense.  They don;t have any true playmakers on defense outside of their cornerbacks.  This deficiency will really hurt the Jets against more explosive teams.
Rating: Below Average.  The only reason to use the Jets this year is if you are a fan of the team.  It will be very difficult to compete against high level opponents using them.  The bright side is they could still improve with roster updates throughout the NFL season.