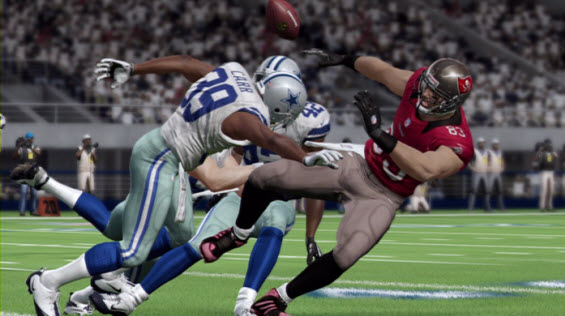 The Dallas Cowboys will have a strong team in Madden 25 as they seemingly do each and every year.  They have playmakers at every offensive position and a defense that should be able to get after opposing quarterbacks.
Team: Dallas Cowboys
Offensive Strategy: Balanced.  Tony Romo has the mobility and accuracy to be a good Madden quarterback.  Running back Demarco Murray also has above average ratings.  When you mix in the receiving threats they have with Dez Bryant, Miles Austin, and Terrance Williams, you can begin to see how scary this offense is.  Don't forget about their top 5 tight end Jason Witten either.
Defensive Strategy: Pressure the quarterback.  The Cowboys have the best pass rusher in Madden 25 in Demarcus Ware.  Bruce Carter, Sean Lee, and Justin Durant form a solid linebacking core.  Use these guys to force the other team into some bad throws.
Impact Players: QB Tony Romo, HB Demarco Murray, WR Dez Bryant, WR Miles Austin, TE Jason Witten, DE Demarcus Ware, DE Anthony Spencer, LB Bruce Carter, LB Sean Lee, CB Morris Claiborne, CB Brandon Carr
Key Newcomers: TE Gavin Escobar, LB Justin Durant
Biggest Strength: The overall number of good players on the team. As you can see by having 11 impact players above, the Cowboys have no shortage of good players in Madden 25.  They aren't the type of team where you can focus on shutting one player down and that alone will make them very hard to defend.
Biggest Weakness: Safeties.  The safeties on this team are pretty weak in terms of Madden NFL.  They do have a good pass rush, solid linebackers, and 2 good cornerbacks so you should be able to compensate for that weakness fairly easily.
Rating: Very Good.  The Cowboys are one step away from being very good and 2 steps away from being at the elite level.  Nonetheless they will be a very good team in Madden 25.