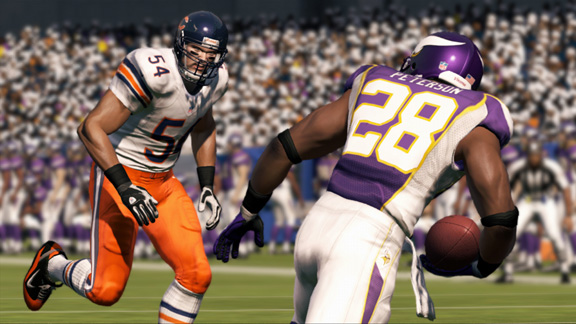 The Minnesota Vikings have Adrian Peterson (the best Madden running back since Barry Sanders) on their team for Madden 25 and that automatically makes them a team to watch.  We have the full Vikings team breakdown below.
Team: Minnesota Vikings
Offensive Strategy: Run, run, and more run.  The quarterback situation for the Madden 25 Vikings is terrible.  QB Christian Ponder has very limited throw power which cuts the field down significantly.  That shouldn't be a huge deal for people who know how to use the Vikings correctly.  If you aren't running the ball at least 60% of the time with the Vikings then you know you are doing something wrong.  Adrian Peterson can literally put a team on his back in this game and any smart player will take advantage of that.
Defensive Strategy: Get after the quarterback.  Jared Allen is a big time pass rusher both on Sundays and in the video game.  You need to utilize his skills if you want to have a chance to stop your opponent.  If you sit back in coverage all day, your defense will get torn apart.
Impact Players: HB Adrian Peterson, WR Greg Jennings, TE Kyle Rudolph, WR Cordarrelle Patterson, DE Jared Allen, S Harrison Smith
Key Newcomers: CB Xavier Rhodes, WR Cordarrelle Patterson, DT Sharrif Floyd, WR Greg Jennings
Biggest Strength: Running game.  Not only do the Vikings have the best Madden running back in a decade on their team but they also have a top 5 offensive line.  Find 10 good rushing plays in your favorite playbook.  When you mix them up correctly, you will be as close to unstoppable as it gets.
Biggest Weakness: Secondary.  Unless you have speed and high overall ratings in your secondary, it will be a weakness in Madden 25 and that is the case with the Vikings.  Is there secondary terrible? No.  But it can't defend a high powered passing offense on the virtual gridiron so until they get some ratings boosts through roster updates, secondary will continue to be an issue for the Minnesota Vikings.
Rating: Good.  Take Adrian Peterson away from this team and you are looking at a 1 star rating.  However, add in a halfway decent Madden NFL quarterback and this becomes an elite team.  So the bottom line is if you know how to use this team, you will do great but if you don't you will struggle.
Did we miss anything? Disagree with something?  Let us know your thoughts in the comments section.