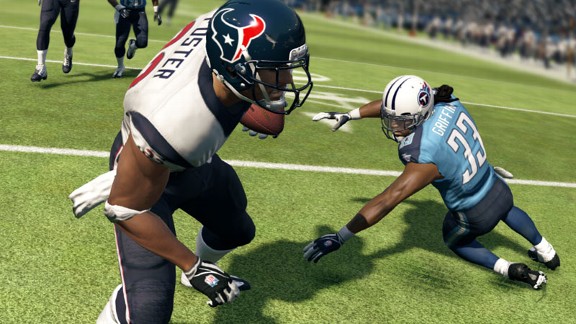 The Houston Texans are absolutely loaded in Madden 25.  This team, when used correctly, will be downright scary.  We have the full team breakdown below.
Team: Houston Texans
Offensive Strategy: Balanced.  The Texans have all sorts of weapons.  A good quarterback, a dominant WR, an elite RB, a steady backup RB, a dangerous rookie receiver, and a very good pass catching TE.  To say you have plenty of options on offense is the understatement of the century.  It would be naive for us to tell you how to use the Texans' offense in Madden 25.
Defensive Strategy: 3-4 Blitz Heavy.  The Texans defense was a little questionable in last year's Madden 13 game but it won't be a problem this year.  Adding Ed Reed next to the already studlike Madden safety Daniel Manning will make the Texans have a top 3 safety combination.  When you pair that with the Texans feared pass rushers, you have a combination for dialing up some interesting blitzes.
Impact Players: QB Matt Schuab, HB Arian Foster, WR Andre Johnson, TE Owen Daniels, CB Johnathan Joseph, S Ed Reed, S Daniel Manning, DE JJ Watt, LB Brian Cushing, P Shane Lechler
Key Newcomers: S Ed Reed, WR Deandre Hopkins, P Shane Lechler, SS D.J. Swearinger
Biggest Strength: Playmakers.  You have around 10 big time playmakers on this team.  Most teams only have 2 or 3.  When playing as the Houston Texans in Madden 25, your opponent won't be able to key on one guy or one facet of the game.  Play the Vikings and you just have to worry about shutting down Adrian Peterson.  Play the Packers and you just have to worry about stopping the passing game.  You can't do that against this Texans team.
Biggest Weakness: I don't see any glaring weaknesses on this team and that is incredibly rare when it comes to Madden NFL.  They are the complete package.
Rating: Elite.  The Texans will be a top 3 team in this year's Madden game.
Did we miss anything?  Let us know your thoughts in the comments section.