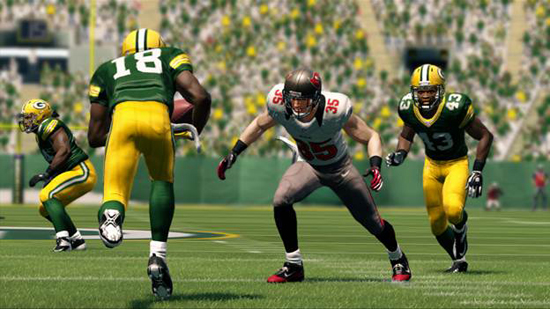 The Green Bay Packers have always been one or 2 players away from being an unstoppable Madden team.  Based on their offseason, they seem to be one step closer to that goal in this year's Madden 25 game.
Team: Green Bay Packers
Offensive Strategy: Pass Heavy.  You have all sorts of options with the Packers offense.  Aaron Rodgers is without question the best quarterback in the game due to his speed, throw power, throw accuracy combination.  When you add in the fact that he has 4 impressive passing options in WR James Jones, WR Randall Cobb, WR Jordy Nelson, and TE Jermichael Finley, it becomes easy to understand why this is the most feared offense in Madden 25.
Defensive Strategy: Aggresive Man to Man.  The Packers have the cornerbacks and pass rushers needed to have a scary Madden defense.  In general their cornerbacks have better man to man ratings than zone coverage so you should be sure to emphasize that when running your virtual Packers defense.
Impact Players: QB Aaron Rodgers, WR James Jones, WR Randall Cobb, WR Jordy Nelson, TE Jermichael Finley, OLB Clay Matthews, CB Tramon Williams, CB Sam Shields, CB Casey Hayward, K Mason Crosby
Key Newcomers: DE Datone Jones, HB Eddie Lacy, HB Johnathan Franklin
Biggest Strength: Offensive firepower.  The already impressive Packers of Madden 13 became even more powerful when they added Johnathan Franklin and Eddie Lacy (or Franklin and Bash as I am calling them).  Those 2 running backs where 2 out of the top 3 rookie running backs in terms of Madden 25 and they will immediately be the virtual starter and backup in this year's game.
Biggest Weakness: Safety.  There was a time when Nick Collins and Charles Woodson were the Packers' safeties in Madden NFL.  Unfortunately for Packers fans, they don't have much at safety anymore when it comes to Madden 25 effectiveness.
Rating: Elite.  The Packers are a top 3 team this year and have very few weaknesses especially since they improved their running game through the NFL Draft.  The only unfortunate part of being an elite team is the fact that people online will sometimes avoid you simply because you are playing with the Packers.
Did we miss any key players?  Do you disagree with something? Let us know in the comments section.