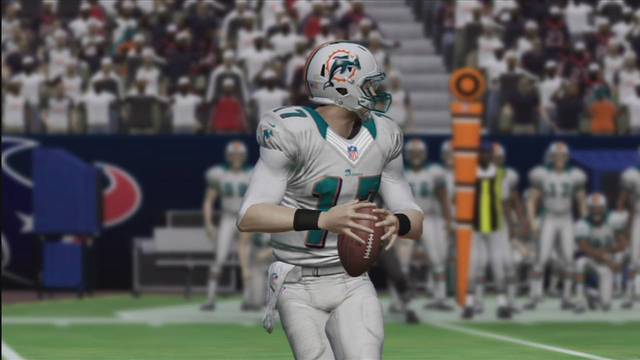 Miami Dolphins have been a middle of the road Madden team for the last few years.  Don't expect that to change much in Madden NFL 25.  We have the full team breakdown below.
Team: Miami Dolphins
Offensive Strategy: Speed. Quarterback Ryan Tannehill his above average speed for his position.  Running back Lamar Miller has impressive speed, and new wide receiver Mike Wallace is blazing fast.  Utilize the speed of this team's offense if you want to win more Madden games.
Defensive Strategy: Get after the quarterback.  The Dolphins have a very strong defense in Madden 25.  Cameron Wake and rookie Dion Jordan are pass rushing freaks.  Opposing offenses won't be able to key in on both of them.  You should get plenty of sacks when using the Dolphins.
Impact Players: QB Ryan Tannehill, HB Lamar Miller, WR Mike Wallace, TE Dustin Keller, DE Cameron Wake, DE/OLB Dion Jordan, CB Brent Grimes
Key Newcomers: WR Mike Wallace, TE Dustin Keller, DE/OLB Dion Jordan, CB Brent Grimes, LB Dannell Ellerbe
Biggest Strength: Defense.  The Dolphins have one of those low-key yet extremely effective defenses that only people who consistently play with them understand.  They made a few key additions to the defense this year which will only help them in Madden 25.
Biggest Weakness: Lack of Stud QB or HB.  In Madden, you need either a dominant quarterback, an elite running back or both.  Try to think of a top tier Madden team that doesn't have at least one of those things.  Even historically bad teams like the Jaguars have MJD.  As long as they lack a big play qb or hb, the Dolphins will continue to be a middle of the pack team.
Rating: Slightly Above Average.  The Dolphins have the framework to become a high level team in Madden 25.  Until either Tannehill or Miller get ratings boosts through roster updates, this team will continue to be middle of the pack.