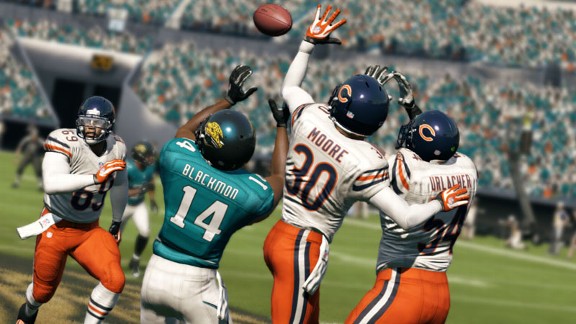 The Jaguars have been one of the worst teams in Madden NFL games over the last few years.  While they have added a few effective Madden weapons in the offseason, they still have a long way to go before they will be competitive in Madden 25.
Team: Jacksonville Jaguars
Offensive Strategy: Run, Run, Run.  The Jaguars have one of the most dangerous backfields in the game. Maurice Jones-Drew (a top 5 Madden running back) should be able to pick up solid gains behind a pretty good offensive line.  It is really unfortunate that the Jaguars don't have a halfway decent quarterback.  Cecil Shorts and Justin Blackmon paired with newcomers Ace Sanders and Denard Robinson form a pretty scary arsenal of weapons.
Defensive Strategy: Hope for the best.  The Jaguars really don't have much of a secondary and a pretty terrible pass rush to pair with that.  The linebacking core is decent but doesn't possess the speed needed to be truly feared.  Look for rookie safety Joanthan Cyprien to make a big time impact in Madden 25.
Impact Players: HB Maurice Jones Drew, WR Justin Blackmon, WR Cecil Shorts, HB Denard Robinson, TE Mercedes Lewis, S Jonathan Cyprien, MLB Paul Posluszny
Key Newcomers: HB Denard Robinson, T Luke Joeckel, WR Ace Sanders, S Jonathan Cyprien, CB Dwayne Gratz
Biggest Strength: Offensive Weapons.  Maurice Jones-Drew is a very effective running back while both Cecil Shorts and Justin Blackmon play well above their potential in Madden NFL games.  The Jaguars also drafted a few of the biggest playmakers in this NFL draft.
Biggest Weakness: Quarterback and defense in general.  The Jaguars defense is unbearably weak with no real puss rush or playmakers.  Both Blaine Gabbert and Chad Henne will be fairly useless in Madden 25 unless one of them does so well in the beginning of the year that EA Sports is forced to give them some significant ratings boost.
Rating: Bad. This Jaguars team has potential and that is the only reason they get a 2 star rating instead of it being lower.  Only play with the Jaguars if you are a die-hard fan or if you are looking for a challenge.